Cursed beginning, but blessed end: How lockdown changed the fate of these villagers in West Bengal
At the beginning of the lockdown, the villagers of West Bengal's Purulia district were in great trouble due to lack of food. Their ration cards were mortgaged. But now, the same lockdown has changed their fate. They are now getting a lot of governmental benefits due to this lockdown.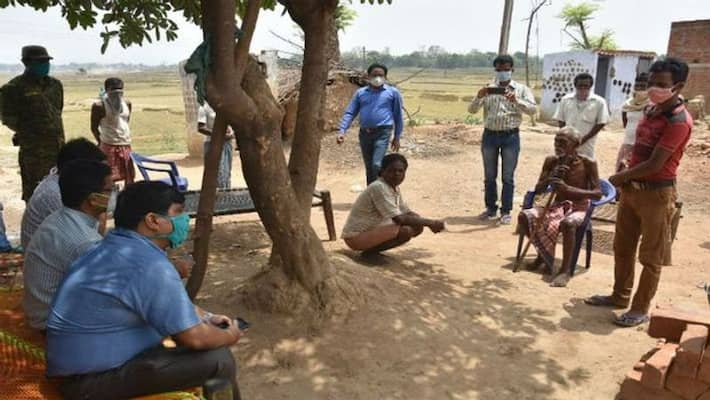 Purulia: At the beginning of the lockdown, it was a curse for these poor villagers of Sarjumatu village in West Bengal's Purulia district. They were in great trouble due to lack of food, as their ration cards were mortgaged. The cards were recovered overnight by the local administration after the news was published on Asianet News Bangla. And now, with a list of promises made by the administration, the lockdown has proven to be a blessing in disguise.
Purulia is one of the poorest districts in the country. And Sarjumatu is a marginal village of that district. Ration cards of several families of this village were mortgaged to local moneylenders. Due to this, they were not getting any free ration promised by the central government at the beginning of the 21-day-lockdown. As a result, they were literally starving at that time.
After the news was published on Asianet News Bangla, the district administration became active. The villagers not only recovered their ration cards, but were also given enough rice, wheat and other food grains. There was no official word or assurance offered by the district magistrate at that time. But, as the lockdown eased a bit in the non-hotspot areas in India, Rahul Majumdar, the district magistrate of Purulia, went to Sarjumatu village on Monday (April 20) and announced various government benefits for the residents.
The Kalindi community of this village works mainly as undertakers. But during the lockdown, like many others in the country, they too became jobless. The district magistrate of Purulia told the villagers of Sarjumatu on Monday that he had several plans lined up to make them financially self-sufficient.
100 days of guaranteed employment under MGNREGS scheme have been arranged for these villagers. Also, a house will be built for each family under the PMAY scheme. Those who are above the age of 60 will be covered under the pension scheme. In addition, a self-help group will be formed with the women of the village. They will be trained and associated with various government projects later, Rahul Majumder promised.
Last Updated Apr 21, 2020, 8:14 PM IST