Cricket World Cup replica made of record 16,185 hexagonal nuts installed at Lulu Mall Trivandrum!
As part of the ongoing ICC Cricket World Cup, the Lulu Mall in Thiruvananthapuram displayed the world record-winning replica of the World Cup made out of 16,185 hexagonal metal nuts.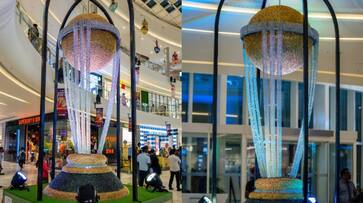 Thiruvananthapuram: For every cricket enthusiast, the striking model of the Cricket World Cup in the Thiruvananthapuram Lulu Mall's Grand atrium is a sight to behold. It also holds the world record for the most hexagonal metal nuts used in the construction of a replica of the Cricket World Cup. This World Cup replica, clouded in golden, silver, and black, weighs 370 kg, is 11 feet tall, and is constructed from 16,185 nuts.
The Lulu Events team spent 12 days creating this Cricket World Cup replica, which is based on the same design as the ICC Cricket World Cup 2023. The thousands of consumers who frequent Thiruvananthapuram's Lulu Mall will be treated to a visual feast. Posting pictures on Facebook, Lulu Mall wrote, "Witness the grandeur at Lulu Mall Trivandrum!  Behold the World Record-winning Cricket World Cup Replica, crafted from a staggering 16,185 hexagonal nuts. Standing at 11 feet tall and weighing in at 370kg, it's a sight to behold! For all cricket enthusiasts, this is your world-class moment this World Cup Season.Come and experience the magic today."
Earlier, the Lulu Mall in Kochi hoisted the flags of the respective countries as part of the ICC Cricket World Cup. 
Pakistan's crucial victory over New Zealand has left the competition for the two semi-final positions in the Cricket World Cup wide open, while undefeated India has secured the top spot with a hammering of second-place South Africa. Although Pakistan, Afghanistan, Sri Lanka, and the Netherlands all have varied degrees of chance of snatching a semi-final spot, Australia and New Zealand presently join the qualified pair of India and South Africa in the vital top-four spots.
 
Last Updated Nov 6, 2023, 10:10 PM IST