COVID patients on hydroxychloroquine more likely to be re-infected: Report submitted to ICMR
The sero-surveillance report of West Midnapore district states that there is no antibody stability in the body of COVID-19 patients and that there are chances of them getting re-infected again. The report added that antibodies are stable for only two months on average.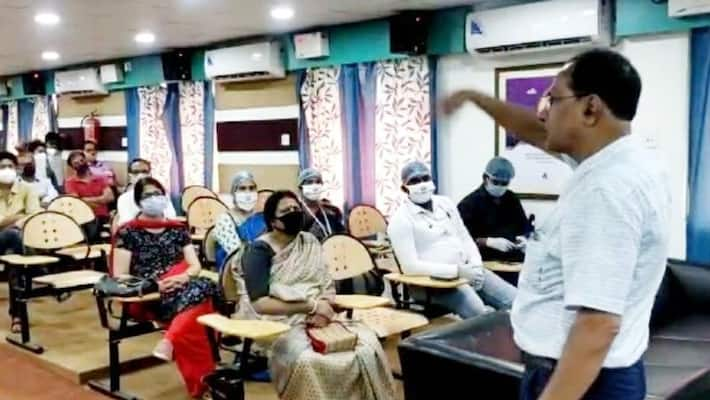 COVID-19 patients are more likely to be re-infected due to lack of antibody stability, and antibodies are stable only for two months on an average; this shocking information has come up in the sero-surveillance report of the West Midnapore district.
According to reports, as antibodies are transient, plasma therapy will also not be very effective in treating COVID patients. Even after taking hydroxychloroquine and ayurvedic prescribed drugs, the rate of infection will still be high, the report states.
Therefore, health officials have suggested focusing on how to get rid of the infection by building resistance capacity in the body rather than thinking about the vaccine. The West Midnapore District Health Department is set to submit its survey report to the ICMR.
Also read: West Bengal CM voices in favour of keeping NEET and JEE postponed, asks other states CMs to appeal to Court
To understand the nature of COVID infections in West Midnapore, antibody tests, and surveys were conducted by identifying 30 infected areas in the district as clusters. The survey was a joint venture of the West Midnapore District Health Department and Medinipur Medical College.
Sero-surveillance focuses on whether a person who looks healthy is actually healthy or infected with COVID-19. It also focuses on whether a person has recovered from COVID-19 due to the body's immunity.
If antibodies are made in the body, then its stability can be estimated. Health workers are shocked after looking at the survey report. After concluding the survey, the health workers of the district presented the shocking information at a press conference on Wednesday (August 26).
Also read: Minor girl sits on strike in front of boyfriend's house as he refuses to marry her
Dr Soumshankar Sarengi, deputy chief health officer of the district, said, "Those who went in and out of the district during this pandemic have 2.9% higher chance of getting infected with COVID-19 than others. Again, those who took hydroxychloroquine were eight times more likely to be infected than others.''
The study stated that consuming hydroxychloroquine increases the risk of COVID-19 infection in the body. In two months, 63% of those who returned home after getting cured of COVID had lost antibodies. As a result, they are more likely to get re-infected with COVID-19.
Medical College principal Dr Panchanan Kundu, chief health officer Nimai Chandra Mandal, deputy chief health officer Soumya Shankar Sarengi, Dr Kripasindhu Gantait, Dr Tarapad Ghosh, and others were present on the occasion. They also admitted that the COVID patients returned home healthy but the antibodies in their bodies were not persistent. As a result, if the patient does not take proper precautions after returning from hospital, the person may become infected again.
Chief health officer Dr Nimaichandra Mandal said, "A large number of people are not yet infected in the district. We, therefore, need to further isolate the patients by conducting regular tests so that a large number of people do not get infected. However, everyone must wear a mask."
Last Updated Aug 27, 2020, 2:00 PM IST