COVID-19, revenue cuts, import restrictions; here's what Indian Air Force faces
Combatting COVID-19, import restrictions and revenue cuts that IAF has a lot on its hands. We travel the path of its preparedness for the near and far future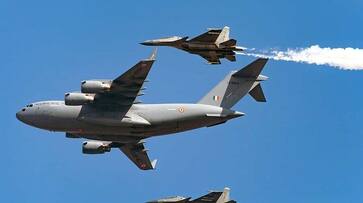 Path breaking defence reforms were announced by Finance Minister Nirmala Sitharaman on Saturday. As per media reports it has been confirmed that the first four Rafale will arrive in India by the end of July 2020. Meanwhile, in a web interaction with the defence think-tank, 'Manohar Parrikar Institute for Defence Studies and Analyses', Indian Army Chief General Naravane on Friday said that India will have to remain "alive" to a scenario of a "two-front" war along the northern and western borders, but noted that he does not foresee the possibility of every (border) confrontation leading to such a situation. The country will have to remain prepared to deal with such a scenario and there will always be a priority front and a secondary front.
On the Army's big-ticket proposal to induct youngsters for a three-year tenure under the Tour of Duty (ToD) concept, Gen. Naravane said the ToD will help the Army in cutting down revenue expenses on account of payment of pensions and other benefits. This one has of course sent confusing signals, when a systematically evolved cadre management system, Short Service Commission (SSC) already exists. Can a country with 1.3 billion population and highest youth demography try such experiments when institutions like NCC already give disciplined exposure to millions.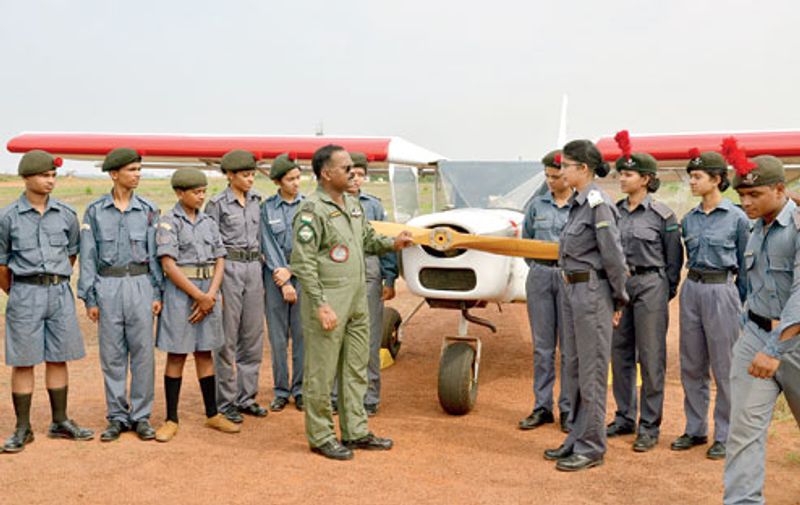 Picture Credit: Telegraph India
He further said that the Army has received an order from the government to cut expenditure by 20% from the current fiscal due to the COVID-19 crisis, and that the force is implementing it without compromising on its combat readiness. Expenditure was being cut through a variety of measures including restricting large movements of troops, he said. For an aviation service like IAF there is little difference between war and peace time operations, as flying training is a continuous process. How will IAF tackle these Import restrictions, budget cuts in Covid times, and yet remain operational?
Ban on Select Imports
Government has proposed a ban on imports for certain to-be-notified weapons and platforms. Thrust will be on indigenisation of imported spares. A separate budget provision is proposed for domestic capital procurement. All are generally great initiatives that will boost self-reliance and give impetus to Defence R&D and the industrial ecosystem in the country. But one just wishes that we had got our act right 70 years ago and not been in the mess we are. Till we bring systemic changes in DRDO and DPSUs and remove bureaucratic stranglehold, nothing will change, only delay imports. We must also remember that indigenous content of the LCA Tejas, as last known, was 59.7% by value and 75.5% by number of line replaceable units. Any select ban on imports must first have an indigenous substitute in place.
Reduced Revenue Budget
 The 20% cut in revenue budget will impact the flying training operations of the IAF. Cutting down armament training, operational flying exercises for the whole year would impact operational status of units. It has to be remembered that flying training is a long-drawn process and operational pilots are created after many years of training. Continuity in flying training is required for flight safety reasons. The IAF will have to find means to schedule flights to maintain a pilot's operational flying currency.   
New Induction and Acquisition Delays
Many IAF aircraft are in the pipeline. On top of the line is the Rafale aircraft which was to arrive in India in May 2020. The training of Indian pilots and technicians in France had slowed due to COVID but has now been completed. Also, crucial ground equipment and various test benches that have to be set up before aircraft physically arrive, though delayed, have started arriving as air cargo movements have been cleared. The first four Rafale are now set to arrive by the end of July 2020. To avoid too many stops enroute, the aircraft will have a long flight from Bordeaux in France to Al Dhafra in UAE. The flights will be supported by aerial refuelling.  Similarly, a few Chinook and Apache helicopters are yet to arrive, and it is hoped that they will also start arriving albeit with a little delay. The impact of COVID-19 on S-400 supplies is unclear, but it could become an excuse for delays. Till now IAF has received only the LCA Mk I (IOC) variants, the final operational clearance (FOC) variants were to start inducting by now. These are bound to get delayed. Even though Hindustan Aeronautics Ltd (HAL) has started some operations, scaling up production will take time. It is unlikely that the planned 12-14 aircraft will get delivered this financial year. The fund allocation for the LCA production itself may be curtailed or delayed. Launch of LCA Mk 1A will also get delayed. Similarly, delivery of already ordered indigenous ALH and Rudra helicopters will be delayed. All bureaucratic processes for acquisition of new aircraft, spares, weapons will slow down. The funds available for new systems in the Capital allotment may also be curtailed, considering the magnitude of impact on the national economy.  This would have separate fallout.
Covid Internal Containment and HADR Ops – IAF 
 Practically, all IAF operational air, radar, and missile bases are in self-contained and mostly walled areas. Managing personnel health safety is therefore easier. The high level of discipline and education even among the families further ensures Covid safety. Adequate health care and other administrative services are also self-contained. Covid also means significant Humanitarian Assistance and Disaster Relief (HADR) tasks of the Central and State governments for IAF. IAF is regularly undertaking flights to pick up stranded Indians and carry medical supplies and other essentials. IAF, like the other Armed Forces has set up special hospitals to support national health emergencies and also set up quarantine centres.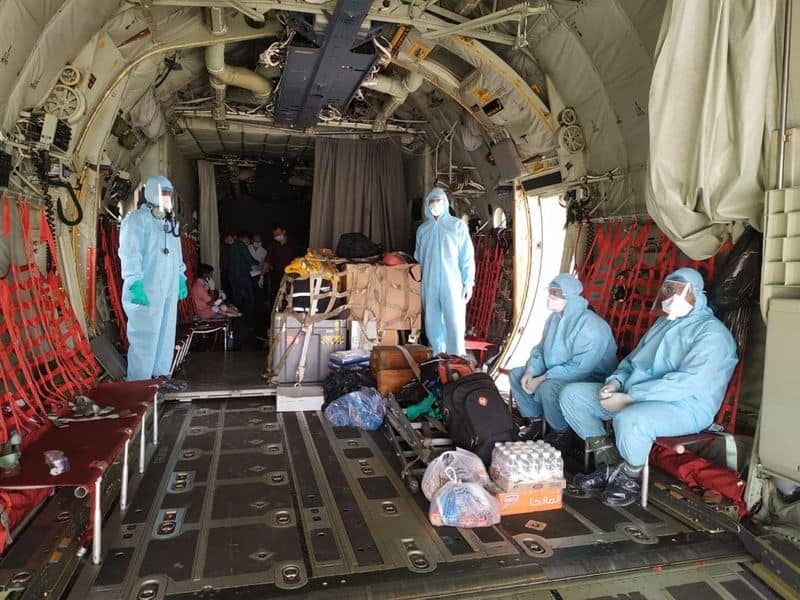 Picture Credit: IAF
Guarding the Skies and Operational Continuity Training
The Armed Forces have to continue to guard the national borders. For IAF it means surveillance flights, fully armed aircraft on Operational Readiness Platforms (ORP), round the clock churning radars, and air defence missiles on hot-standby. It also means that the underground operations centres are fully manned and active despite Covid. The combat air and ground crew have to continue to train and the younger lot to upgrade their operational status. Maintaining social distancing, the flying operations including that of the fighter aircraft have to carry on. The flight briefing and debriefing would require some procedural changes.  Normally, the aircraft preparation requires technicians to work at close distances. This would have been reworked. The pilots would also manage some activities in the cockpit such as strapping up etc without support from the ground crew. The operational training status of the squadrons have to be kept high. It is understood that the total quantum of flying at most bases would have come down due to peculiar circumstances requiring extra caution.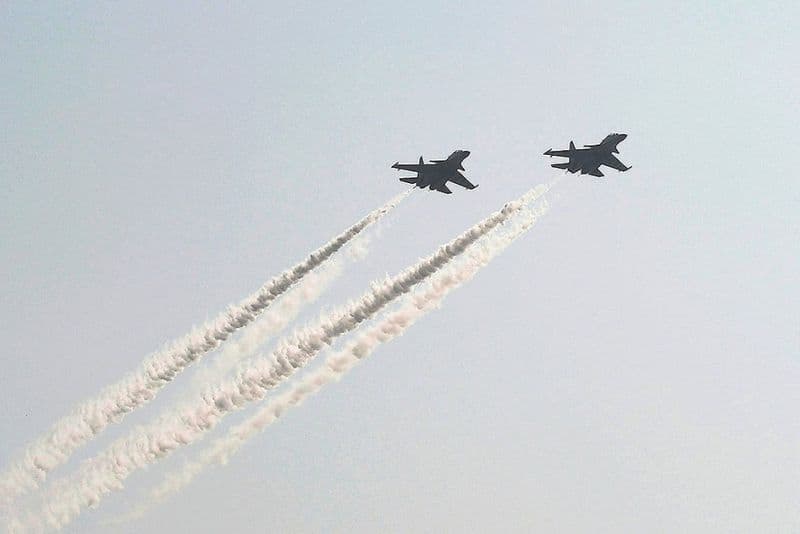 Picture Credit IAF
Covid and Training Courses
Military runs many training courses. Many of these were ongoing when the COVID-19 emergency happened. Some courses have been put on hold and some are moving at a slower pace. All new courses have been temporarily held in abeyance. Such a state cannot be allowed for long. IAF would be conducting interim online study and tests. Many courses would have been reworked for this semester. Critical are the flying training courses for trainee pilots, and the flying academies have to maintain schedules. Most of these will get delayed by a few months.
Technical Operations Overhauls and Repairs
To sustain flying, many technical and maintenance activities are required. This could mean a turn-around servicing; change, repair and servicing of a spare part; arming of weapons; among many others. Technical continuity training and refreshers have also to continue. Most of these activities are hands-on and cannot be done online. Physical move of spares from repair depots and equipment depots have to take place either by surface transport or by air. COVID-19 has impacted work at Base Repair Depots (BRD), and other repair and overhaul agencies. Also supply of spares from abroad or from local manufacturers would get affected. Delays in overhauls of aircraft and engines would mean lesser hours available for flying.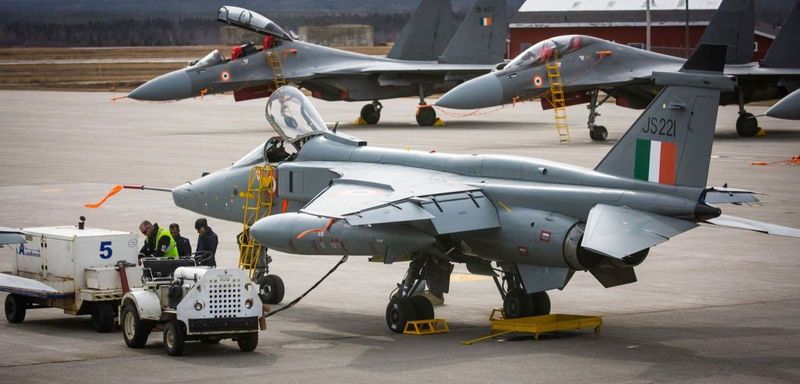 Picture Credit: Pinterest
Long Term Operational Impact
IAF is already down to 30 fighter squadrons, vis-a-vis the officially authorised 42 squadrons. The Service Chiefs have been repeatedly telling the nation that the two-front war scenario is "Alive". China has been pulling way ahead for the last two decades. The People's Liberation Army Air Force (PLAAF) has already inducted nearly 1,000 fourth Generation plus aircraft and also is forming the first unit of fifth generation indigenous stealth aircraft. IAF has a lot to catch-up. In fact, among the three services, IAF needs the largest infusion of funds, both for catching up the backlog and also because the technology intensive systems are very expensive. While the nation has still to get its act right in Make-in-India air systems, IAF must quickly initiate the process of acquiring additional fighters, lest the IAF goes down to the dreaded figure of 25 fighter squadrons.   
(Air Marshal Anil Chopra, (Retd), is an IAF test pilot, who commanded a Mirage 2000 Squadron and operational airbases in both Western and Eastern sectors)
Last Updated May 18, 2020, 7:27 PM IST