Coronavirus: Sudha Murthy offers help, asks Karnataka CM to set up hospital

Karnataka needs a helping hand amid coronavirus outbreak especially after the first death witnessed. Infosys Foundation chairperson Sudha Murthy always comes first to do her bit. She has written a letter to chief minister BS Yediyurapa stating that she would take up civil work to re-model a vacated government hospital to tackle coronavirus.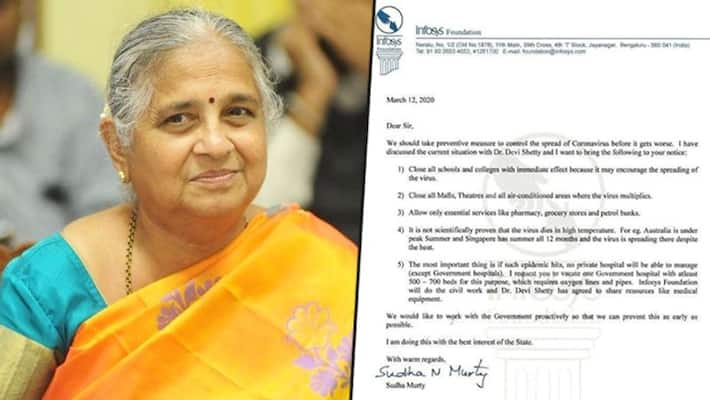 As the Karnataka government is struggling to keep the state safe from deadly coronavirus, yet again, it is Sudha Murthy, who has come forward to do what she is best known for - 'philanthropy'.
The Infosys Foundation chairperson Sudha Murty wrote to Karnataka CM BS Yediyurappa on Thursday that she would like to work with the government to prevent the spread of the deadly coronavirus that has claimed the life of one person in Karnataka. 81 persons have tested positive for coronavirus in India.
Murthy has communicated this through a letter and said that she along with another private doctor will help. While she will take up civil work, the doctor, who has a big hospital in his name, would chip in with medical equipment, she said.
She has asked the state government to get ready with 500-700 beds in the hospital as private hospitals will not be able to take the load of patients.
In the letter, the philanthropist and writer also stressed on preventive measures that she believes need to be undertaken to curb the spread of coronavirus.
She even suggested measures like closing all schools and colleges, shutting air-conditioned cinema halls and malls as the virus multiplies in cold places.
The letter also stated that despite a few countries witnessing summer, the cases are increasing and in such cases, no private hospitals will be able to manage and hence vacating a government hospital will prove to be helpful so that she can help with the civil work and equip the hospital with 500-700 beds, oxygen pipes, medical equipment, etc.
Sudha also asked the CM to keep essential services like pharmacies, grocery stores and petrol bunks open.
 
Last Updated Mar 13, 2020, 5:29 PM IST