Coronavirus: PM Modi tweets on Trump's ventilator offer , says 'more power to India-US friendship'
"This pandemic is being fought collectively by all of us," tweeted PM Modi.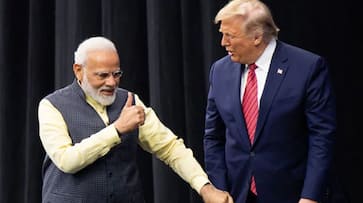 New Delhi: Prime Minister Narendra Modi thanked United States President Donald Trump for promising to donate ventilators to India. 
"Thank you @POTUS @realDonaldTrump This pandemic is being fought collectively by all of us. In such times, it's always important for nations to work together and do as much as possible to make our world healthier and free from COVID-19. More power to India – United States friendship!" PM Modi tweeted.
The number of coronavirus cases in India rose 85,940 on Saturday morning and the toll reached 2,752. The country reported 3,970 cases and 103 deaths in 24 hours. India has surpassed China's tally of 84,038 cases.
The United States on Friday said that it is sending many ventilators to India to help the country combat the coronavirus pandemic, President Donald Trump had announced to underline close relations between the two countries. 
"We are sending quite a lot of ventilators to India. I spoke to Prime Minister (Narendra) Modi and we are sending quite a few ventilators to India. We have a tremendous supply of ventilators," Trump said at the White House.
According to a Hindustan Times report, the United States will airlift 200 mobile ventilators, each estimated to cost about Rs 1 million, to help Indians combat COVID-19. 
Last Updated May 16, 2020, 3:59 PM IST