Coronavirus: Patanjali launches Coronil, claims 100% recovery from COVID-19
Not an immunity booster but a cure, claimed yoga guru Baba Ramdev on Tuesday as he unveiled, what he calls, the first ayurvedic medicine against the coronavirus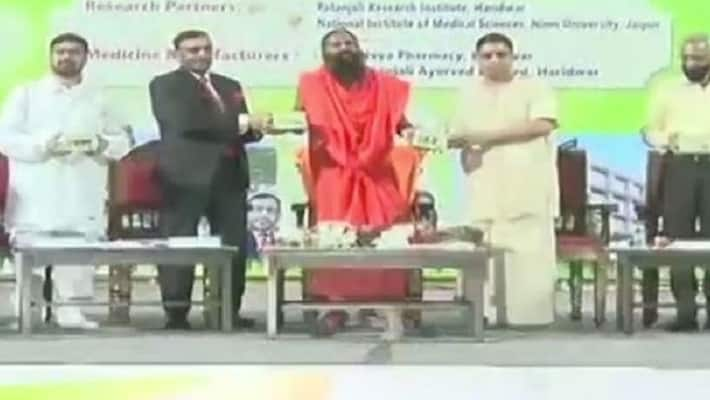 New Delhi: Patanjali Ayurvedic Medicines has launched 'Coronil' anti-COVID tablets to combat and prevent the spread of the deadly coronavirus. Researched by Patanjali Research Institute with clinical trials held at NIMS University, Jaipur, the anti-corona tablet was launched by Baba Ramdev earlier today.
It is reported that controlled clinical trials were carried out adhering to standardised protocols of drug discovery to evaluate its efficacy, the company said. Within a span of 3 to 15 days, all the coronavirus positive patients transformed into negative ones without observing any mortality, the company's release about the tablet claims.
As reported by Republic TV, the COVID therapy suggested by Pantanjali is applicable for adults ranging between 15-80 years of age whereas children are advised to take half the dosage prescribed for adults. Further, Patanjali urged people to practice Yoga every morning in order to stay protected from the coronavirus infection and to boost their immune system. Apart from boosting the pulmonary system of the body, these Ayurvedic medicines strengthen the human physiology to encounter the COVID-19 infection, Patanjali claims.
"The whole country and the world were waiting for medicine or vaccines for corona. We are proud to announce that the first Ayurvedic, clinically controlled trial based evidence and research-based medicine has been prepared by the combined efforts of Patanjali Research Centre and NIMS," Yoga teacher Ramdev said at the press conference here adding that it has shown "100 percent recovery rate within 3-7 days," Baba Ramdev said.
"We are launching COVID medicines Coronil and Swasari today. We conducted two trials of these, the first clinical controlled study, which took place in Delhi, Ahmedabad, among many other cities. Under this, 280 patients were included and 100 per cent of those recovered. We were able to control corona and its complications in this. After this the all-important clinical control trial was conducted," he added.
Last Updated Jun 23, 2020, 2:45 PM IST