Coronavirus: Howrah district hospital reopens after two weeks; superintendent recovers too
Howrah district hospital, which stopped its operation due to the fear of COVID-19 spread, reopened on Saturday after two weeks. The superintendent of the hospital also recovered from coronavirus infection.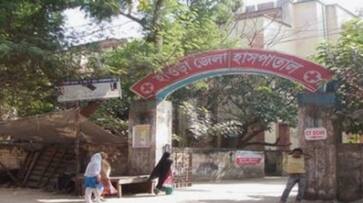 Howrah: Howrah District Hospital in red zone of West Bengal opened its doors to patients on Saturday after being shut for two weeks due to the coronavirus spread. Also, Narayan Chatterjee, the superintendent of the hospital, who was infected with coronavirus, recovered and was back to work.
However, only emergency services and maternity wards have been reopened for now. Hospital sources said, "The department of medicine and surgery services will be opened in phases within the next few weeks. The autopsy work has already been started."
Reportedly, pregnant women faced a lot of trouble as the district hospital was closed. So, opening the labour ward was the authorities' first priority. On Saturday, the other departments associated with this ward were also reopened.
Also, according to reports, no COVID-19 patient will be admitted at the hospital for the time being. The decision was made to prevent coronavirus from spreading in the hospital again. However, a fever clinic has been set up, which will be open on Holidays too and collect samples of COVID-19 tests.
Earlier, a coronavirus positive female patient from Salkia area, who was admitted to the general ward of Howrah District Hospital had succumbed to the infection. Later, Narayan Chatterjee,  the superintendent of the hospital also tested positive for COVID-19.
Along with his family members, about 200 officials of the district administration, health department and hospital staff, who came in contact with him, were kept under home quarantine for 2 weeks. Following which the hospital was completely shut down.
Last Updated May 4, 2020, 2:11 PM IST