Coronavirus: Don't go to mosques, Karnataka govt and maulana appeal to Muslims
As India reported its 8th death due to coronavirus from Kolkata, and the number of positive cases touched 415 in India, the Karnataka Government and Maulana Tariq Jameel have asked Muslim community members to offer prayers at home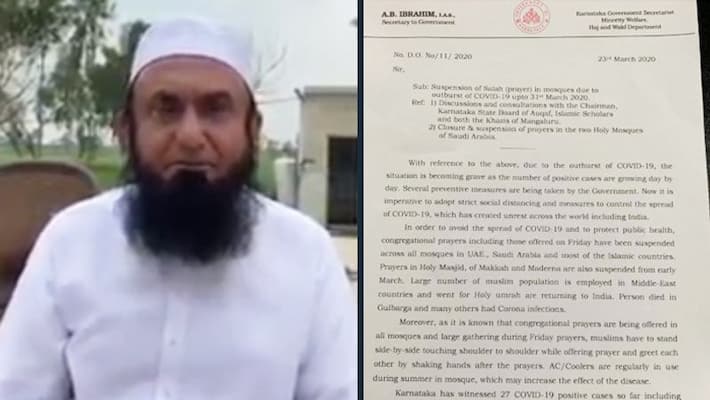 Maulana says this is a testing time and after the worsening situation in Italy, the Muslim community should support the government in their efforts to combat the coronavirus at this hour.
AB Ibrahim, secretary to Government, Waqf Board in a letter has provided clear instructions to 'Salaths' that are offering namaz in 16,000 masjids across Karnataka and in particular in those districts which have been placed under lockdown, to not encourage community members to gather in large numbers.
Even before the government took the decision, community leaders had already instructed members not to make 'wadu' that is to wash their hands, feet and face at the mosques, but instead do it at home before visiting the mosque. Masjid committees had asked members to bring their own floor mats to offer prayers and refrain from shaking hands or touching people while greeting them.
Now with the top maulana asking the community not to visit masjids, it will go a long way in helping the government in its efforts to contain the spread of the deadly virus.
Community members have been asked to follow these instructions until March 31 and wait for next announcements from community leaders and the government
Last Updated Mar 23, 2020, 6:13 PM IST