Coronavirus: Another man flaunts Rs 3.5 lakh gold face mask
After a Pune man's video went viral for wearing a face mask entirely out of gold, a businessman from Odisha has now opted for a golden mask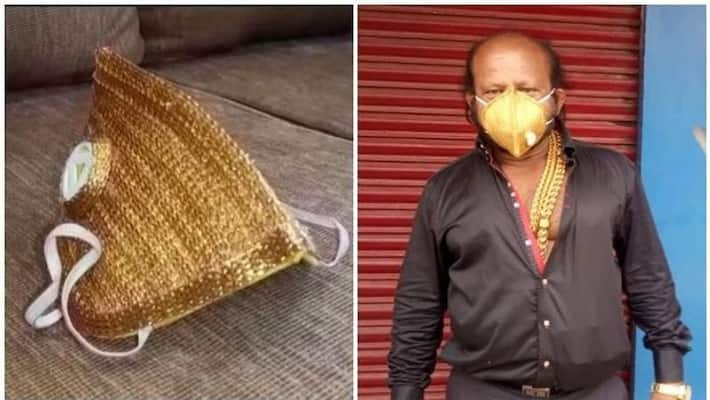 Bhubaneswar: Photos of a man in Rs  3.5 lakh worth gold face mask are viral on social media.
Businessman Alok Mohanty  had an obsession with gold since childhood. Mohanty said when he saw the Pune man with his golden mask, Mohanty could not resist himself. So he rushed to a Zhaveri Bazaar jeweller in Mumbai and had the mask made.
Mohanty's mask consists of 90-100 grams of gold. It also has minute breathing holes to make it comfortable to wear.
According to a report in India Today, Mohanty has been wearing gold ornaments for nearly four decades. "Wearing gold is my weakness," Mohanty claimed, adding that when he saw others wear golden masks, he had to get one too.
In the viral photos, Mohanty can be seen wearing the mask with several ornaments  including thick gold chains and bejeweled rings.
The trend of the golden mask began in India after a Pune man got a mask made of gold worth Rs 2.89 lakh. Shankar Kurade, who is a gold lover, got the idea of getting a gold mask, as he saw a man wearing a silver mask. Not only the mask, Kurade's hands and neck are covered with gold jewellery.
He also said that he is ready to get his family members a gold mask, if they demand it. He added that he doesn't know whether this gold mask can help him not get infected with coronavirus or not, but following all the rules of the government can prevent the spread of the virus.
Last Updated Jul 17, 2020, 4:34 PM IST