Cops, lawyers engage in heated brawl in Tis Hazari Court in Delhi
Cops, lawyers engage in heated brawl in Tis Hazari Court in Delhi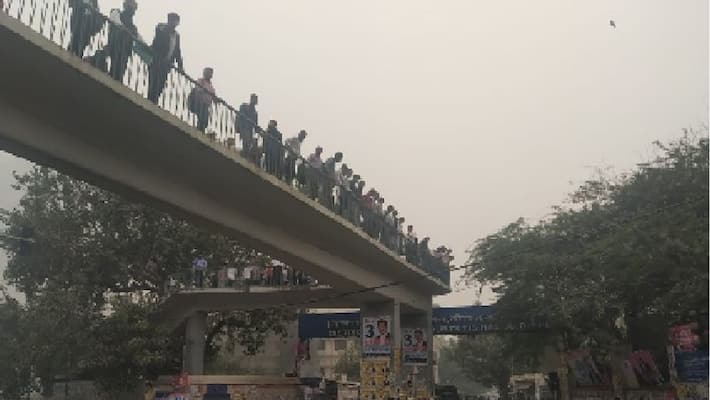 Delhi: A scuffle broke out between Delhi Police personnel and advocates outside the Tis Hazari court on Saturday afternoon. Reportedly, the tussle broke out over parking space and an injured lawyer has been rushed to the hospital. A police vehicle was set ablaze during the scuffle.
The scuffle broke out when members and workers of the Indian Youth Congress were protesting outside the residence of Union minister Giriraj Singh against Regional Comprehensive Economic Partnership (RCEP) and the inclusion of dairy sector in RCEP.
Tis Hazari Bar association's office bearer, Jai Biswal, witnessed the scuffle. "A police vehicle hit the vehicle of a lawyer while he was coming to the court. When the lawyer confronted them he was ridiculed and 6 police personnel carried him inside & thrashed him. People saw this & called the police. SHO & local police came there but were not allowed to go inside. We informed the High Court, a team was sent there along with 6 judges but even they were not allowed to go in. When they started leaving, cops fired bullets."
Advocates injured during the scuffle with Delhi cops in the court premises have been admitted to St Stephen's Hospital.
"We strongly condemn the brutal, unprovoked attack on lawyers by the police at Tis Hazari Court. One lawyer is critical. A young lawyer was beaten up in lockup, thanks to the high-handedness of police. They should be dismissed and prosecuted. We stand with Delhi lawyers," said chairman of Delhi Bar Council KC Mittal.
An ANI journalist was also hit by lawyers at Tis Hazari Court while he was covering the scuffle between lawyers and the Delhi Police. Journalists present at the premises are being stopped by lawyers from covering the incident and their mobile phones are being snatched. 
Lawyers at Karkardoom Court are staging a protest on the street against the Delhi Police. Lawyers are agitated with the police behaviour as they open fired at the lawyers and two of them were injured.   
Last Updated Nov 2, 2019, 6:36 PM IST