Constable slaps nurse; viral video causes stir in West Bengal
Doctors and police are being hailed as corona warriors risking their lives to save the world from coronavirus crisis. However, a situation which got out of control in West Bengal has brought shame when a woman constable slapped a nurse who was on her way to work.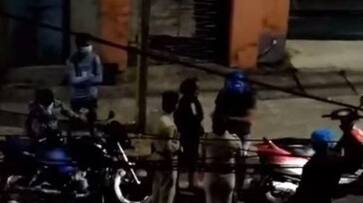 Chandannagar: Coronavirus has changed the status of doctors, nurses and health workers across the world. They are now worshiped as heroes, emerging as the new icons in countries. However, in a shameful incident, a nurse, on her way to work, was allegedly slapped by a police constable in Chandannagar of West Bengal's Hooghly district.
A couple of days ago, a video on the incident in Chandannagar area went viral. The footage showed a woman police constable arguing with a young woman riding a scooter. As the argument heated up, the constable slapped the nurse.
This video caused a stir in the area since it went viral. Although the authenticity of the video could not be verified, it was learnt from the Chandannagar Police Commissionerate that such an incident had indeed taken place.
A police official from the commissionerate said on Thursday that the superintendent of Chandannagar Sub-Divisional Hospital had lodged a written complaint with Chandannagar Police. On the basis of this, Bishop Sarkar, the district commissioner of Chandannagar, has ordered a departmental inquiry into the matter.
According to police, the incident took place a few days ago. A police check post was set up at Phatakgoda area of Chandannagar to ensure the lockdown norms are maintained. Police stopped a nurse during a routine check when she was on her way to work riding a scooter. The rider said she was a nurse at Chandannagar Hospital and was going to work, but police claimed, the nurse could not show her identity card. The nurse, in response, claimed that she was still in training and hasn't completed a year since she joined the course which would allow her to receive an identity card. She even claimed, she told police to call the hospital to verify. However, police didn't listen to her and did not let her pass either.
She got into an argument with a woman constable. The nurse claimed that in the heat of the moment, the woman constable slapped her. Then, seeing that the situation was getting out of control, police let her go.
An eyewitness recorded the whole incident and posted it on social media. Immediately, the video went viral and the situation took a significant turn. The nurse reported the matter to her superintendent at the hospital. The superintendent then sent a written complaint to Chandannagar Police Station.
However, police claimed, the hospital superintendent came to the police station along with the nurse, a day after the incident and the matter was mutually settled through discussion. However, an official complaint came from the hospital soon after the video went viral.
Last Updated May 1, 2020, 5:27 PM IST