Congress did not even spare the name Mahadev: PM Modi in Durg rally
Following Chhattisgarh Chief Minister Bhupesh Baghel's connection to a probe related to the Mahadev betting app, the BJP accused the Congress of using illegal funds for its state assembly election campaign. Prime Minister Narendra Modi condemned the Congress, and Union Minister Smriti Irani alleged the use of "hawala" money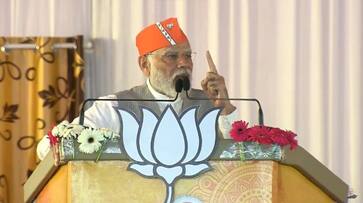 A day after Chhattisgarh Chief Minister Bhupesh Baghel's name was implicated in a probe related to the Mahadev betting app, the BJP launched an attack on the Congress, alleging that the party used 'illicit funds' to finance its campaign for the upcoming state assembly elections. Prime Minister Narendra Modi accused the Congress of not sparing even 'Mahadev,' one of Lord Shiva's names.
Addressing a rally in Durg, PM Modi stated, "The Congress party's Chhattisgarh government is leaving no opportunity to plunder you. They did not even spare the name of Mahadev."
Bhupesh Baghel is under scrutiny by the Enforcement Directorate after a courier, arrested with Rs 5 crore, claimed he was instructed to deliver the money to a politician named 'Baghel.' He further alleged that the Mahadev betting app's promoters had already paid Baghel Rs 508 crore.
The investigation is ongoing, and the allegations have not been independently verified by the probe agency.
PM Modi assured that action would be taken against all the accused once the BJP forms the state government. He said, "Action will indeed be taken against those who plundered Chhattisgarh. Every penny will be accounted for. I assure you that after the BJP government is established in the state, such scams will be rigorously investigated, and those who plundered you will be incarcerated."
Union Minister Smriti Irani also accused the Congress of using "hawala" money to finance its campaign in the state. Hawala is an informal money transfer system that does not involve physical cash movement and operates on an honor system. The Mahadev app was allegedly involved in large-scale hawala operations to transfer betting proceeds to offshore accounts.
Baghel denied the allegations and accused the ED of attempting to tarnish his image ahead of the elections. He also accused PM Modi and Union Home Minister Amit Shah of using central investigation agencies after failing to challenge the ruling Congress in the state.
Last Updated Nov 4, 2023, 7:48 PM IST