Congress beats Karnataka MP's poster with slipper; BJP says party does not endorse views of Anantkumar Hegde
A day after BJP MP Anantkumar Hegde stoked controversy with his speech against Mahatma Gandhi, Congressmen protested on the streets and beat former Union minister's poster in Bengaluru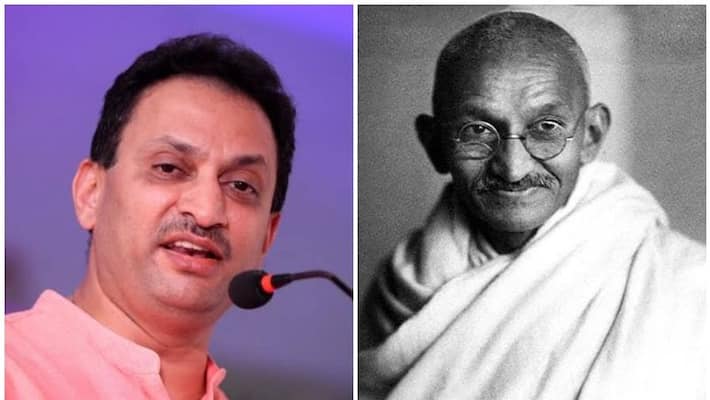 Bengaluru: Congressmen protested on the streets of Bengaluru, raising their voice against former Union minister and BJP MP Anantkumar Hegde's controversial remark. The BJP leader had called the freedom struggle led by Mahatma Gandhi a 'drama' and asked how such people come to be called 'Mahatma' in India. The opposition workers also beat poster of former Union minister marking their protest.
Hegde, while speaking at a public event earlier, had also questioned how "such people" come to be called 'Mahatma' in India. While addressing a public event in Bengaluru on Saturday, the Lok Sabha MP from Uttara Kannada said the entire freedom movement was "staged with the consent and support of the British".
"None of these so-called leaders were beaten up by the cops even once. Their independence movement was one big drama. It was staged by these leaders with the approval of the British. It was not a genuine fight. It was an adjustment freedom struggle," he had said.
The senior Bharatiya Janata Party leader also termed Mahatma Gandhi's hunger strikes and satyagraha a "drama".
Reacting to Hegde's remark, BJP spokesperson Prakash said that BJP  does not endorse the views of Anantkumar Hegde. He added that it is Hegde's personal remark, and BJP has nothing to do with it.

"To politicise this on the part of the Congress is ridiculous. The ideals of Gandhi has been forgotten by Congressmen since long. Now to politicise one's individual statement is incorrect. BJP does not endorse Hedge's statement or views on Mahatma Gandhi," he said
Last Updated Feb 3, 2020, 2:10 PM IST