Church survey: Karnataka HC declines interim order, awaits state govt's response
Following the BJP government's move to list Churches, prayer halls, pastors and nuns running prayer halls, Peoples Union for Civil Liberties has approached the Karnataka HC with a PIL seeking an interim order. The petitioner pleaded that the survey report may end up targeting the community from fringe groups. The court declined interim order, however, issued notice to the government to respond to the PIL.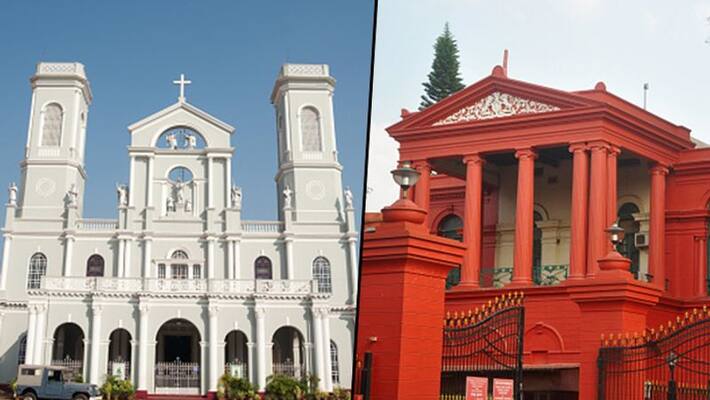 As the Christian community has been at the receiving end from BJP and some right-wing leaders over alleged forced conversion, prompting the administration to order a survey of churches, a right group has filed a petition seeking an interim order on the survey. The Karnataka High Court bench headed by Justice Ritu Raj Awasthi declined to pass an interim order and asked the government to submit the statement of objections in 3 weeks' time and adjourned the hearing.
Recently, a series of alleged religious conversions cases were reported from Yadgir, Chitradurga, Dharwad and other areas and the video of villagers and Hindu groups confronting missionaries had gone viral. 
Chitradurga district MLA Goolihatti Shekhar had openly stated about the conversion mafia in the assembly and also told that his mother had converted to Christianity. As a panel member of the backward class commission, when the chairman was absent in the recent meeting, Shekhar took over as chairman and ordered the survey, and directed all the district administrations to carry out the process.
Arch Bishop Peter Machado had expressed disappointment over the allegation and survey on churches. He opined that the survey will give a free hand to fringe groups to target the community and churches.
With growing concern from the Christian community over the survey, the Peoples Union for Civil Liberties Karnataka chapter filed a Public Interest Litigation and former advocate general of Karnataka Ravi Varma Kumar is arguing the case.
Here are the key points from the petition:
The petitioner has prayed before Karnataka HC to issue an interim order against the survey.
The petitioner wants the survey to be declared as illegal, void, arbitrary, unconstitutional and a violation of fundamental rights under Articles 14 and 21 of the Indian Constitution.
The petitioner prayed before HC to direct the respondent (govt) to protect the interest of minorities.
In its interim prayer, the petitioner wants the court to direct the respondent not to take any coercive action in this regard.
The petitioner further prayed the court to direct the respondent to protect and safeguard the already collected information and data regarding the community.
Last Updated Oct 26, 2021, 4:36 PM IST