Chhattisgarh Election 2023: CM Baghel unveils ambitious 17-point Congress manifesto; assures cylinder subsidy
Chhattisgarh is set for a crucial election, with voting scheduled in two phases, on November 7 and 17, and the much-anticipated election results to be declared on December 3.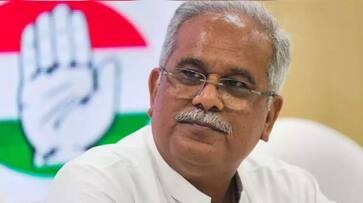 As the Chhattisgarh assembly elections draw nearer, Chief Minister and Congress leader Bhupesh Baghel on Sunday (November 5) unveiled the party's comprehensive manifesto. This manifesto is a document brimming with 17 significant promises, outlining the Congress's vision and commitments as it gears up to face the electorate.
Congress has rolled out a range of promises aimed at benefiting the people of Chhattisgarh. Among the promises are assurances of free electricity, significant decisions related to paddy procurement, and a substantial commitment to tendu leaf traders.
Madhya Pradesh Election 2023: PM Modi addresses voters in Seoni, says 'BJP hai toh bharosa hai'
The key announcements made by Congress in the manifesto are as follows:
1. Loan Waiver: Continuing its previous commitment, Congress has reiterated its promise to waive off agricultural loans, offering respite to farmers burdened by debt.
2. Paddy Procurement: Paddy procurement began on November 1, with the party taking a proactive approach by purchasing 20 quintals per acre. The move is set to benefit the state's agricultural community significantly.
3. Paddy Purchase Price: Congress has pledged to purchase paddy from Chhattisgarh farmers at a rate of Rs 3200 per quintal, ensuring that the farming community receives a fair price for their produce.
4. Free Education: The party envisions free education from kindergarten to post-graduation in all government schools and colleges, a step towards improving the accessibility of quality education.
5. Tendu Leaves Trade: Congress has increased the rate for tendu leaves per bag to Rs 6000, marking a substantial Rs 2000 increment. Furthermore, collectors will receive an annual bonus of Rs 4000.
6. Electricity Access: To alleviate the financial burden on citizens, Congress plans to offer free electricity up to 200 units, providing relief to households.
Delhi primary schools closed till November 10 as air quality worsens; Online classes offered for seniors
The upcoming Chhattisgarh assembly elections are scheduled to be held in two phases, on November 7 and 17, with the eagerly awaited election results to be declared on December 3.
The unveiling of the party's manifesto underscores the Congress's determination to address the pressing issues and fulfill the aspirations of Chhattisgarh's citizens. It serves as a roadmap that outlines the party's vision for the state, offering a glimpse into the changes and improvements they intend to bring if elected.
Last Updated Nov 5, 2023, 3:04 PM IST