Revolt brews against CM Naidu as defectors swell TDP's ranks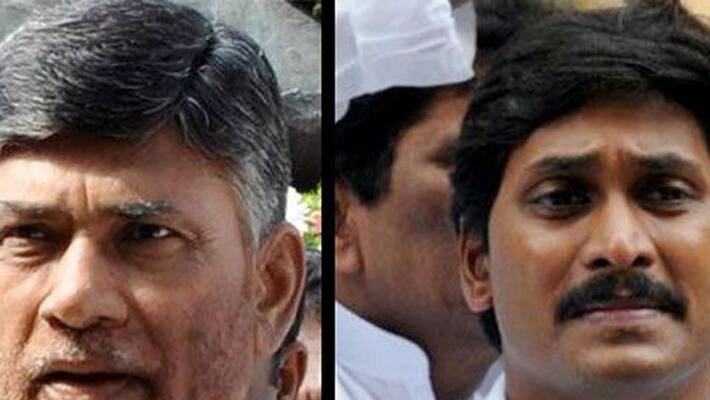 Senior TDP leader Karanam Balaram Krishnamurthy demanded amendments to the existing anti-defection law to make the defection of  MLAs from one party to the other impossible. To drive home his point, he held a meeting with CM Chandrababu Naidu to express great displeasure over the admission of his arch-rival Gottipati Ravikumar, a YSR Congress MLA, into the TDP.

Emerging from the meeting Krishnamurthy said there was an urgent need to give more teeth to the law preventing defections. Krishnamurthy found fault with his leader as well, who, he said, had once vowed that he won't admit anybody from the opposition party into the TDP.
 
Read More: Andhra: Jagan struggles under a spate of defections
Krishnamurthy took strong objection to CM Naidu's encouragement of the defections. Claiming that YSRC MLAs were joining the ruling party to save their ill-gotten wealth, he not only opposed the admission of the YSRC MLA from Addanki constituency but also made clear his contempt for CM Naidu's changed attitude towards floor-crossings.
 
Balaram is an old-guard of the party from Prakasam district who lost the 2014 election to Gottipati. Gottipati's elevation as CM Naidu's blue-eyed boy has caused trouble with TDP members of Addanki constituency.
 
Two months back CM Naidu admitted YSRC MLA C Adinarayana Reddy from Jammalamadugu constituency in Kadapa district into the TDP, much to the displeasure of another old-guard - P Ramasubbareddy - leading to clashes in some villages. Both Reddys spearhead a dangerous style of politics in the constituency.  The Ramasubbareddy faction is terribly upset by CM Naidu's sudden love for their rivals.
 
Read More: TDP gets jittery as Jagan does Delhi power rounds
Similarly, trouble broke out in Nandyala constituency, when YSRC MLA Bhuma Nagireddy joined the party, over the objections of senior TDP leaders like Shilpa Mohan Reddy. The bitter rivalry in Nandyala between Bhuma and Shilpa has gone on for decades now.
 
 
There has been no open revolt against CM Naidu so far, even though many TDP senior leaders resent the defections. As the 2019 elections are yet many years way, political observers sense the disgruntled feel the current time is not right for an open revolt. 

"Many of these TDP local lords have business interests which suffered during the 10-year Congress regime.  However, opposing CM Naidu would affect their financial interests now as well. Currently they can't afford to challenge CM Naidu's 'Operation Akarsh. There is going to be a political realignment in the state soon. These leaders may come out of the TDP at that time," said a TDP leader, who is not happy with the defections.
 
Read More: Turned tables: Jagan uses TDP's methods against CM Naidu
With the addition of the Tribal MLA K Sarveswar Rao, the number of defector-MLAs in the TDP rose to 16. According to Jaleel Khan, a YSRC MLA who switched over to TDP two months ago,  another 25 to 30 opposition MLAs are expected to cross over to the TDP.  
The theory doing the rounds in political circles is that once their number goes up to 34, the defectors would the Assembly Speaker to recognise their group as the 'real YSR Congress' and their chosen leader as the new opposition leader in the place of Jaganmohan Reddy.
Last Updated Mar 31, 2018, 6:44 PM IST