Chandigarh stalking case: Who is the second accused along with Vikas Barala?
Two law graduates and friends - Vikas Barala and Ashish Kumar were arrested for a second time in the stalking case
This time the duo has been arrested under non-bailable charges of attempting to abduct
Ashish Kumar is alleged to have tried to open Varnika Kundu's car door while they were chasing her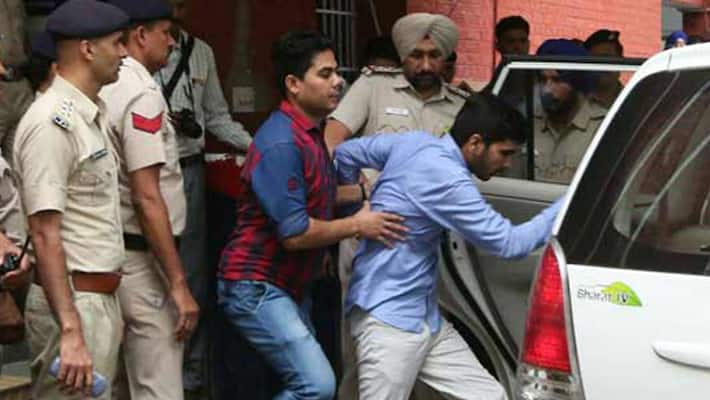 While much has been written about Vikas Barala because he belongs to a political family, not much is known about his friend and also a co-accused in the case - Ashish Kumar Olla.
Ashish was accompanying Vikas that night and was in passenger seat while Vikas did the driving. In fact, it is alleged that he even tried to open Varnika's car door. According to a report in the Hindustan Times, Ashish, who is a law graduate from Hissar, belongs to a farmer's family in Bhiwani. His father died three years ago, while his mother is prone to epilepsy and hysteria.
Speaking to his family, the paper learnt that Ashish had previously dabbled in stocks which ended up with selling a huge chunk of the family's land. His mother has not been told of the arrest as she will not be able to bear the news. It is speculated that Ashish became friends with Vikas in the law college and he had been very influenced by Vikas and his lifestyle. On that night, apparently, Vikas was showing Ashish around the city.
Haryana BJP chief Subhash Barala's son Vikas and his friend Ashish Kumar were produced before a local court on Thursday. Reports in media say that Vikas Barala has admitted to chasing the girl his car.
The non-bailable charge of attempting to abduct under section 365 of the IPC and section 511, which relates to attempt to commit an offence punishable with life or other imprisonment, had also been pressed against the two.
This is the second time that Vikas and his friend Kumar have been arrested in the stalking case, which has triggered a nation-wide outrage and a spate of protests. The two were earlier arrested on Saturday following the woman's complaint but released on bail as they had been booked under bailable sections of the IPC and the Motor Vehicles Act.
Last Updated Mar 31, 2018, 6:56 PM IST