Celebrating Kerala at the cost of crores while 55 lakh pensioners await arrears
Around 55 lakh people are waiting to get their welfare pension, which has been delayed in Kerala for the past 4 months. Meanwhile, the government is celebrating Kerala celebrations with huge budgets.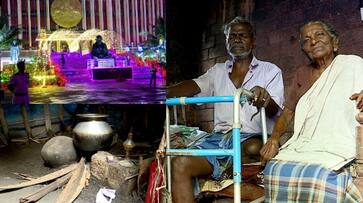 Thiruvananthapuram: As the state government is holding Kerala celebrations in the capital with huge budgets, around 55 lakh people in the state are waiting to get their welfare pension, which has been delayed for four months. Many of the poor people living on welfare pensions are struggling for food and medicine for the day. The reason given by the government for the huge arrears in the welfare pension is that the borrowing limit has expired and the consortium of cooperative banks has denied loans.
Raju, a 58-year-old differently-abled man, is living with his mother, Chachi in Kottayam. This mother is always sad for her son who has to depend on her for everything, even at this age. In a poverty-stricken home, the only source of income for this mother and son is a welfare pension of Rs 1600 from the government. However, the pension has not been provided to the family for the past 4 months. They are not even getting the basic needs they need to survive.
This is the first time that the welfare pension has been suspended for such a long time. The government earlier announced that the welfare pension would be paid every month. After a lot of complaints, the dues were cleared during Onam. However, after Onam, the government has not looked back at the welfare pensioners.
Ministers often promise to pay soon; however, they do not provide a specific timeline. Meanwhile, while many poor people struggle without their pensions, the government appears to be more focused on investing large sums of money in the capital for projects like "New Kerala."
Last Updated Nov 6, 2023, 9:42 AM IST