CBSE student extends arm to paint, sell art to raise funds for fight against COVID-19
It seems like children are getting more conscious about the pandemic situation that has gripped the nation. After Purulia's Khushi Sutradhar, another schoolgirl, Riddhi Das, wants to donate to the Chief Minister's Relief Fund.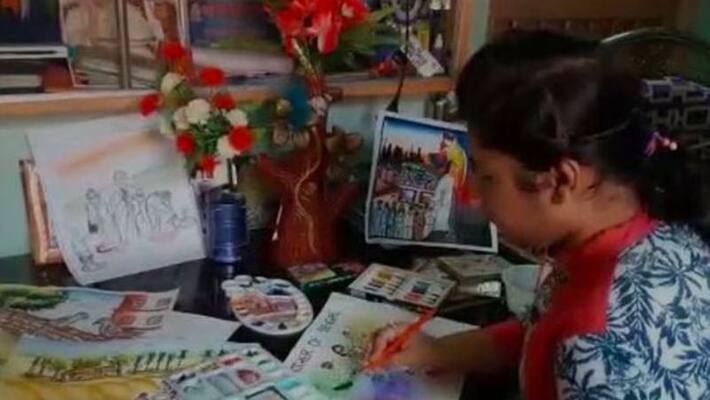 Kolkata:
Riddhi Das, a class 12 student wishes to raise money for corona fighters by selling her paintings. After Purulia's Khushi Sutradhar, Riddhi Das becomes another schoolgirl who has come forward to raise money for West Bengal Emergency Relief Fund.
Riddhi is from Hooghly. She stays at Khamarchandi, a village in Haripal and is a CBSE student, who was supposed to give her board exams this year.
Now, what most of the students unable to appear for board examinations are thinking about is that their career after school is at stake. But Riddhi seems to be concerned about the pandemic situation around her. She is worried about the corona patients, and the spread of the deadly virus.
While many elders are not keen to understand the situation, Riddhi urges people to think in detail about the pandemic situation.
In order to raise funds, Riddhi has started painting, and plans to sell her art. Not many people think like that, do they? Riddhi's paintings even do the talking. Some of the paintings show chief minister Mamata Banerjee standing like a wall to protect Bengal's people from coronavirus. Another painting shows Mamata Banerjee along with doctors and medical workers trying to save people.
Last Updated Apr 14, 2020, 6:31 PM IST