Case against Tamil Nadu BJP spokesperson for condemning Ganesha-idol desecration in Bahrain
The Tamil Nadu police have filed a case against BJP spokesperson Suryah for having condemned the breaking of Ganesha idols in Bahrain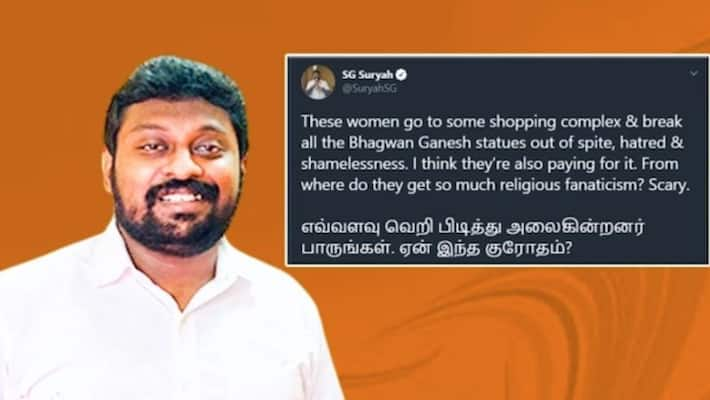 Bengaluru: As reports of a woman desecrating the idols of Lord Ganesha in Bahrain went viral, BJP Tamil Nadu spokesperson Suryah reacted to it, in a caustic manner.  
On his account, he said, "These women go to some shopping complex & break all the Bhagwan Ganesh statues out of spite, hatred & shamelessness. I think they're also paying for it. From where do they get so much religious fanaticism? Scary." 
Reports add that an advocate by name Mani Maran has filed a case against the BJP spokesman saying it promoted religious hatred. He has quoted various sections of the Indian Penal Code to take action against Suryah.
However, the report adds that when contacted, Suryah said he got to know about the case only after reading it on a Tamil website.
Responding to this tweet, Interior Ministry of Bahrain said action had been taken against her. 
It said, "Capital Police took legal steps against a woman, 54, for damaging a shop in Juffair and defaming a sect and its rituals, in order to refer her to the Public Prosecution."
A video in which the desecration was exposed shows how she felled the idol to the floor as she screamed. 
The Ganesha idols were kept on the shelves. Vexed at the presence of these idols, she unleashes herself. 
She even took the salesman to task for selling such idols in a Muslim country and wondered how this could happen in a Muslim country. She even called for the police. The woman, who name is not known, is 54 years old. 
Millions of Hindus worship Lord Ganesha as the destroyer of evils. The country will celebrate Ganesha festival on the August 22. 
Bahrain authorities have condemned the act.  
 
Last Updated Aug 18, 2020, 4:59 PM IST