Cabinet expansion to take place soon; Karnataka Deputy CM reiterates no ministerial berths for lost candidates
According to sources, Karnataka chief minister BS Yediyurappa will finalise the list of ministers today (Friday) and expand his Cabinet by next week. However, in bad news for lost candidates AH Vishwanath and MTB Nagaraj, Deputy CM Ashwath Narayan reiterated that the Supreme Court ruling states lost candidates cannot be made ministers.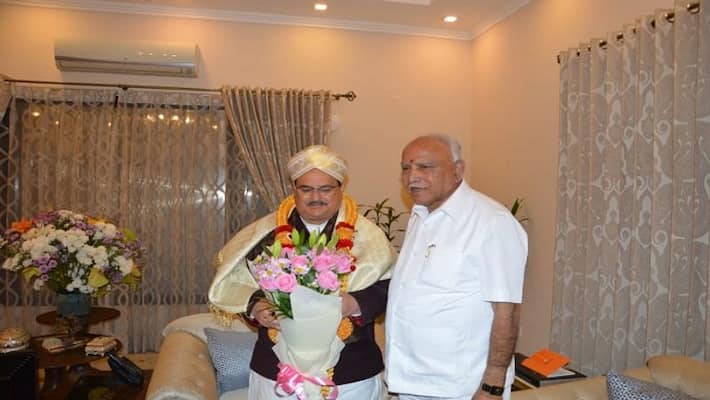 Bengaluru: The distant dream of a Cabinet expansion now seems to be inching closer for ministerial aspirants as Karnataka chief minister BS Yediyurappa will be expanding his Cabinet soon after holding talks with BJP national president JP Nadda.
Yediyurappa, who was scheduled to meet Nadda and Shah on Thursday and return to Bengaluru on Friday morning, could not meet Shah. As a result, he will now return this evening after meeting Shah.
According to sources, the meeting between Nadda and Yediyurappa went smoothly and the former has cleared the path for Cabinet expansion. However, both want Amit Shah to take a note of the list of aspirants. If things go by plan, Yediyurappa might expand his Cabinet by next week.
Amit Shah is said to be busy with his campaign for the Delhi Assembly polls and that's the reason he's not able to discuss expansion with Yediyurappa. The two leaders had a brief talk on Thursday night and decided to finalise the expansion on Friday.
Speaking to reporters late on Thursday night, Yediyurappa reiterated that there will be no more deputy CMs. Party sources revealed that the CM has pushed to accommodate 10 of the newly elected MLAs and drop three incumbent ministers to make space for new faces in the Cabinet.
"It has been a long time since I came to New Delhi. I will be meeting Dharmendra Pradhan, Nirmala Sitharaman. I couldn't meet JP Nadda after he became the BJP chief and will meet him along with Amit Shah and then return to Bengaluru tomorrow (Friday). We will discuss cabinet expansion. We will do as they suggest, whether it is expansion or reshuffle," Yediyurappa told reporters in New Delhi on Thursday.
Meanwhile, deputy chief minister CN Ashwath Narayan saved no face for the disqualified MLAs who lost the bypolls.
While speaking to media persons in Bengaluru, Ashwath Narayan said, "The Supreme Court has ruled out that those who lose elections will not be given ministerial berths. The verdict is there for all to see. However, CM Yediyurappa will hold personal talks with the lost candidates and make appropriate decisions and there should be no doubt about it." 
Last Updated Jan 31, 2020, 2:57 PM IST