British PM Rishi Sunak's Parents Seek Blessings at Mantralaya Temple During India Visit
British Prime Minister Rishi Sunak's parents, Yashvir Sunak and Usha Sunak, received blessings at the Raghavendra swamy at Mantralaya during their visit to India in the lead-up to the G20 summit.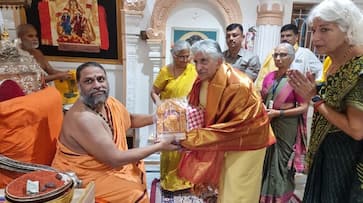 This spiritual journey included a visit to Bengaluru , where they participated in the Shrikrishna Janmashtami program at MLA Uday Garudachar's residence. Notably, Usha Sunak embraced Indian traditions by accepting turmeric kumkum, a gesture that garnered appreciation. Sudha Murthy, the former head of Infosys Foundation, also graced the occasion.
Yashvir and Usha Sunak, known for their spiritual inclinations, sought the blessings of Guru Raghavendra at the Mantralaya temple, Andra Pradesh. Rishi Sunak , the British Prime Minister's father, received blessings from Temple's Seer Subudhendra Teertha Swamiji . 
This spiritual encounter culminated in the bestowal of prasad and mantraksha from the Mantralaya.
During their visit to India, Rishi and Akshata Murthy also made a stop at the Akshardham temple in Delhi, where they joined sadhus and saints in worship and took photographs. Their journey reflects a harmonious blend of cultural exchange and spirituality on the diplomatic stage.
Last Updated Sep 13, 2023, 5:53 PM IST