Body of Vishwesha Teertha brought to Bengaluru: Condolences pour in from political leaders for Pejawar mutt seer
Karnataka chief minister BS Yediyurappa visited the Pejawar mutt seer, while several other politicians took to Twitter to post their condolences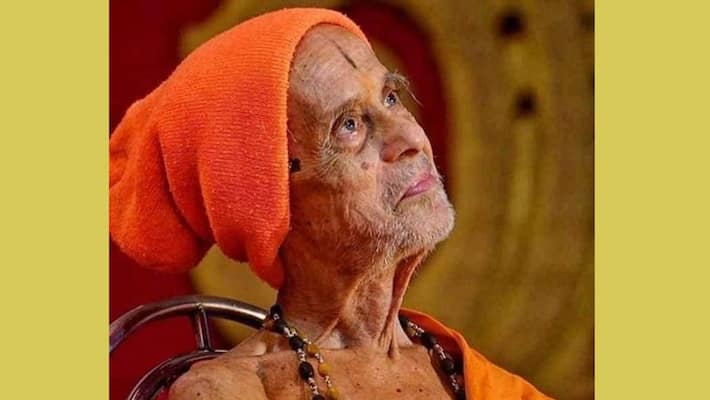 Udupi: The body of Pejawar mutt seer Vishwesha Teertha Swami has been brought to Bengaluru.
Minutes after 89-year-old Pejawar mutt seer Vishwesha Teertha Swami on Sunday (December 29) breathed his last in Udupi's Sri Krishna mutt in Karnataka, chief minister BS Yediyurappa reached the mutt to pay a visit to the seer.
Taking to Twitter, Parliamentary affairs minister Pralhad Joshi said that the seer had been upfront for the development of Hindus in the country and expressed his condolences in Kannada. 
Karnataka BJP MLA and chief minister BS Yediyurappa's son, BY Raghavendra, also expressed his grief over the demise of the Pejawar mutt seer. Taking to Twitter, the BJP MLA said, "Udupi's Sri Sri Vishwesha Teertha Swami of Pejawar mutt has attained divine peace."
Consider the critical illness of the revered seer, all arrangements of ventilator and ICU units have been kept ready in the mutt.
Several saints, seers and devotees conducted special prayers for  Vishwesha Teertha Swami. Junior seers of Udupi Pejawar Adhokshaja mutt along with others were seen chanting Vishnu Sahasranamam inside the mutt premises.
According to reports, the mortal remains of the Pejawar seer Vishwesha Theertha will be interred in Brindavana on the premises of Vidya Peetha in Bengaluru, as per the seer's last wish, by late evening.
Earlier, reports stated that Vishwesha Teertha Swami of Pejawar Mutt, who was admitted to Kasturba Hospital on December 20, was on life support as his condition had deteriorated.
The seer was given Sanyasa vows at the age of 8 in 1938. His vidya guru is Sri Vidyamanya Tirtharu of Sri Bhandarkeri Mutt, and Sri Palimaru Mutt. He has appointed Sri Vishwaprasanna Tirtha as his successor.
Last Updated Dec 29, 2019, 10:42 AM IST