BJP targets Mahua Moitra again; MP claims national security was compromised
The 'cash for query' scandal involving TMC MP Mahua Moitra escalates as BJP's Nishikant Dubey claims that her Parliament website login credentials were accessed in Dubai, backed by the National Informatics Centre (NIC).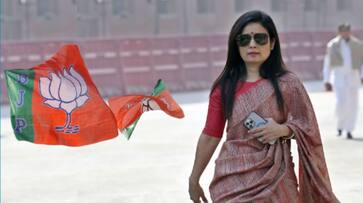 BJP's Lok Sabha MP Nishikant Dubey has intensified his attack on TMC MP Mahua Moitra in the 'cash for query' controversy, alleging that her Parliament website login credentials were used in Dubai, a claim supported by the National Informatics Centre (NIC). This development follows businessman Darshan Heeranandani's affidavit in which he asserted providing gifts and inducements to Moitra in exchange for parliamentary questions and having knowledge of her login details. Moitra has vehemently denied these allegations.
Dubey, who reported the matter to Parliament's Ethics Committee, claimed that Moitra's parliamentary ID for the official website had been accessed from Dubai while she was in India. He accused the MP of jeopardizing the nation's security for personal gain.
"An MP mortgaged the country's security for some money. Parliament's IDs were opened from Dubai. At that time the MP was in India. The entire Indian government, the Prime Minister of the country, the Finance Department, and the central agencies are on this NIC; and the opposition has to do politics. The decision is of the public. NIC gave this information to the investigating agency," Dubey stated without directly naming her.
The Lok Sabha's Ethics Committee has summoned Dubey to provide oral evidence on October 26.
Hiranandani, in his affidavit, claimed to have used Moitra's parliamentary login information to access Parliament's website and pose questions targeting Gautam Adani. Moitra questioned the credibility of the affidavit, pointing out its informal format and suggesting external influence in its creation.
She also alleged that the BJP's motive is to expel her from the Lok Sabha to silence her. "Chairman Ethics Committee openly speaks to the media. Please see the Lok Sabha rules below. How does an "affidavit" find its way to the media? The Chairman should first do an inquiry into how this was leaked. I repeat - BJP's 1-point agenda is to expel me from LS to shut me up on Adani," she stated.
Last Updated Oct 21, 2023, 1:49 PM IST