BJP leader falls off stage while supporting MP CM Shivraj Singh Chouhan; watch video
Madhya Pradesh BJP leader Jagdish Jaiswal fell from the stage during Jan Darshan Yatra.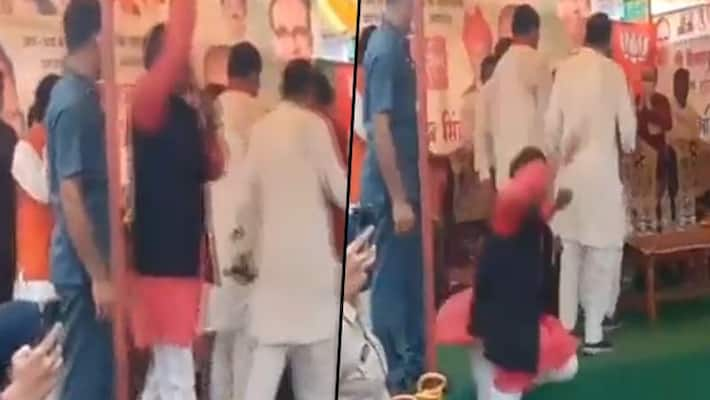 A video of a Madhya Pradesh BJP leader Jagdish Jaiswal falling from the stage while cheering for state Chief Minister Shivraj Singh Chouhan has emerged on social media. The incident took place in a public meeting in Chainpur in the Khargone district.

When the CM Shivraj Singh Chouhan arrived at the venue, his supporters began shouting slogans to address the gathering. Jagdish Jaiswal has also been seen shouting slogans in favour of Shivraj Singh Chouhan. As the BJP leader comes forward on the stage, loses balance, and falls off even before completing the slogan.
It looks like before he realised that he was on the edge of the stage Jagdish Jaiswal fell on the ground. As he fell, security personnel rushed to assist him.
A video of the incident caught on camera and has gone crazy viral across various social media platforms.
Bypolls in Madhya Pradesh will be held on October 30 for three Assembly seats and one Lok Sabha seat. The votes counting will be done on November 2.  
Madhya Pradesh CM Shivraj Singh Chouhan has been touring all poll-bound areas to seek support for the party. Watch the video.
Last Updated Sep 30, 2021, 9:51 AM IST