BJP hits out at Congress over protest against Centre's policies
Congress staged a large scale protest against Centre in Bengaluru on economic issues. However, BJP slammed the Congress for their unwanted protest against the Centre, said Congress has no right to protest.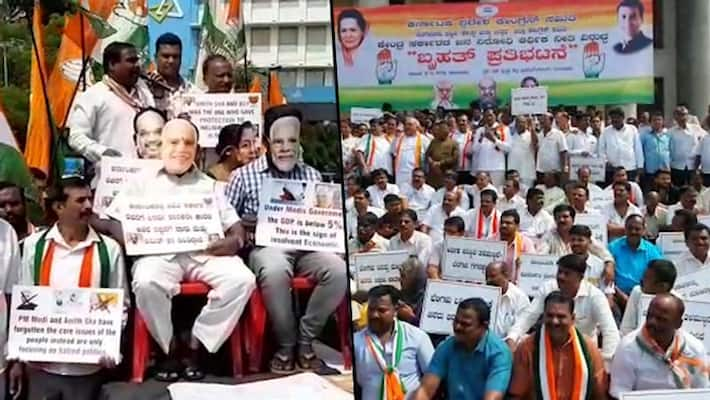 Bengaluru: Condemning the "anti-people policies" of the Union government and "the poor situation of the country", the state Congress unit staged a protest in Bengaluru.
According to a report in Deccan Herald, earlier, state Congress chief Dinesh Gundu Rao pulled up the Centre for the economic policies of the Modi government which was antithetical to the interests of the common man. "At such a juncture, signing the free trade agreement will only deteriorate the existing economic situation," he said.
The party is warning the Union government against signing the Regional Comprehensive Economic Partnership (RCEP) which means free trade agreement without holding wider consultations.  
Alleging that the Central government was withholding information about the Regional Comprehensive Economic Partnership, he said that the Congress was opposed to the move and would raise awareness among the people against the same.
Slamming the Union government for its reported plan to sign the RCEP without holding any discussions, Dinesh Gundu Rao pointed out that it was about to be signed in a day or two and demanded to know if experts or Parliament had been consulted on it, the public made aware of the contents and pros and cons of signing it.
The state Congress unit took to the streets and staged a massive protest in front of Town Hall in Bengaluru condemning the Centre's policies. Congress staged a series of protests in Shivamogga and Hassan on November 5 and 7 respectively. They will also be holding protests in Bijapur, Raichur and Chitradurga on November 12, 13 and 14 respectively.
Rajyasabha MP BK Hariprasad said the All India Congress Committee had directed the state unit to hold massive protests across the state condemning the policies of the Modi government.
"
However, BJP lambasted the Congress for staging the protest and said that they are the ones who looted the country for 60 years and are now talking about anti-people policies.
"I don't think the Congress has any right to stage such a protest and condemn the policies of the Centre. The Congress has destroyed the country and the lives of the people in the last 60 years. They (Congress) have to declare what are the anti-people policies they are protesting about. As a country, we have not seen any communal harmony and peace in the last 60 years. The communal harmony in the country was visible just two days ago when Ayodhya verdict was out. We have faced victory in war situations recently, the financial situation is far better than before, the corruption at the Centre is much lesser than compared to back then under Congress government. Congress has no right to criticise the anti-people policies of the Centre," said BJP spokesperson Vaman Acharya.  
Last Updated Nov 11, 2019, 3:38 PM IST