BJP expels rebel candidate Sharath Bache Gowda ahead of Karnataka bypolls
The saffron party has expelled rebel candidate Sharath, son of BJP MP from Chikkaballapura BN Bachegowda, after he remained adamant on contesting Karnataka bypolls as an independent candidate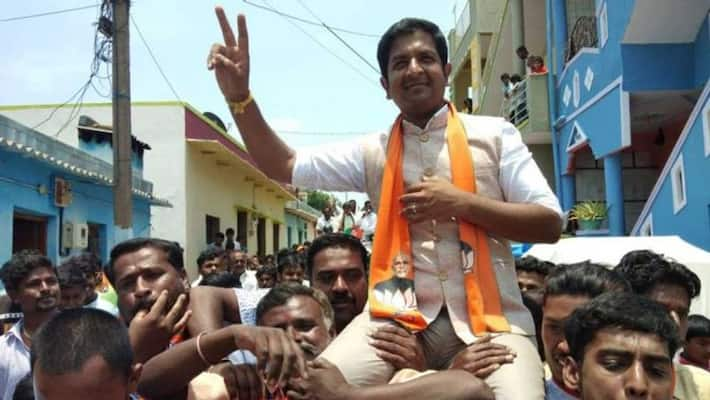 Bengaluru: The BJP was left red-faced on Thursday as their rebel candidate Sharath Bache Gowda refused to withdraw his nomination from the December 5 bypolls in Karnataka.
The BJP released a press statement formally expelling the rebel Sharath Bache Gowda.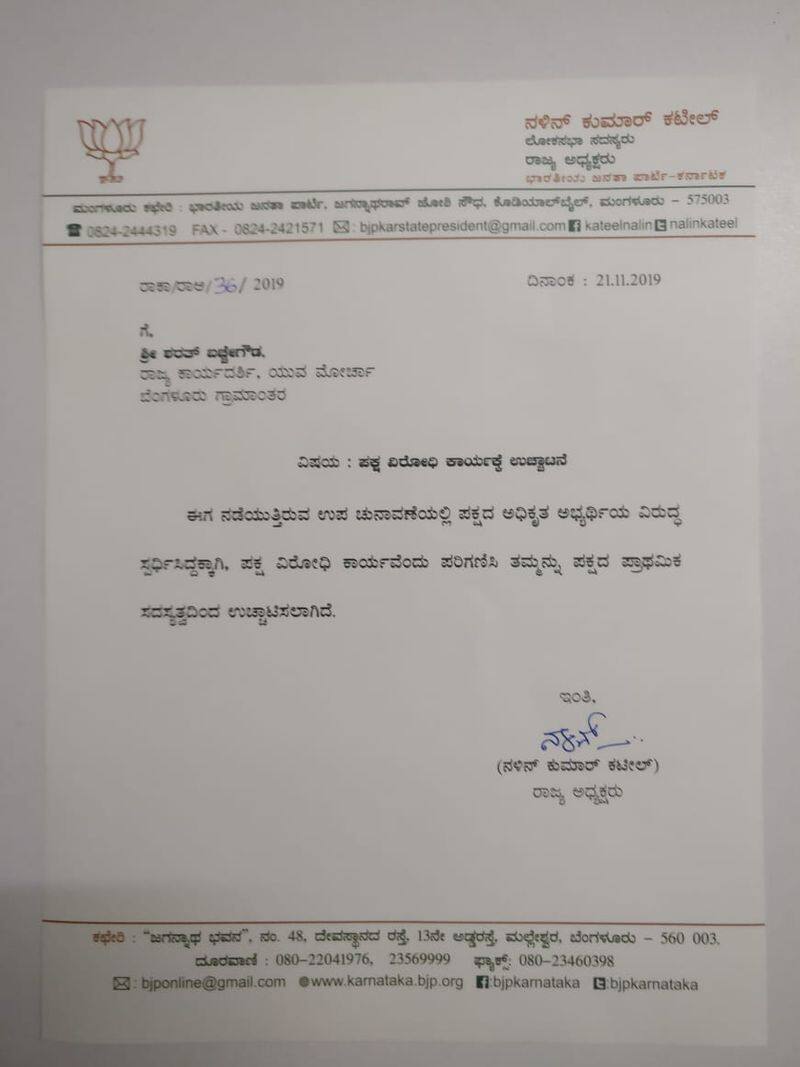 The ruling BJP in Karnataka on Wednesday had asked Sharath to withdraw his candidature in the December 5 Assembly by-elections to 15 constituencies as it expressed confidence of a clean sweep, citing internal reports.
After a meeting of party election in-charges of all the 15 constituencies, BJP bypolls convener and party general secretary Arvind Limbavali said minor confusions that existed have been resolved with respect to Hoskote constituency where party member Sharath Bachegowda had filed his nomination as an independent candidate.
Though several attempts made by chief minister BS Yediyurapa and other top BJP leaders to convince Sharath, son of BJP Chikkaballapur MP Bache Gowda, they didn't yield any results. Sharath filed his nomination papers as an independent candidate.  
Sharath had also refused to assume charge as chairman of the Karnataka Housing Board, and reportedly told senior BJP leaders, including chief minister BS Yediyurappa, two weeks ago that he wished to contest on a BJP ticket and is confident of winning. However, he said that if the party fails to recognise him, he said he will contest as an independent candidate, since his supporters are keen on him contesting the bypolls.
At least two leaders Raju Kage from Kagwad and Sharath Bachegowda had openly revolted against the party upset over indications that they won't get tickets to contest the bypolls.
Both had unsuccessfully contested the 2018 Assembly elections against Congress candidates, who are among the disqualified MLAs. Sharath Bache Gowda will now be contesting against MTB Nagaraj who will contest bypolls on BJP ticket in Hoskote.
Last Updated Nov 21, 2019, 6:38 PM IST