Watch: Biker doing wheelie stunt crashes with the tanker; video goes viral
A horrifying video of a biker performing a wheelie on a busy road, losing control over the bike and crashing with a tanker has emerged on social media.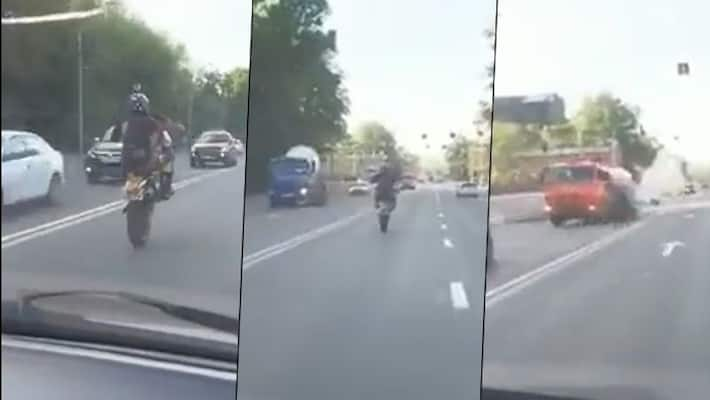 It is exciting to watch action-packed movies, wheelies and daredevil bike stunts. One should not forget that these scenes are picturised under experts supervision. However, some youths attempt to imitate these stunts on busy roads, which can be dangerous and deadly. One such incident happened when a man decided to do a wheelie on a busy street and got into a horrible accident.
A video shows a man riding a bike in full biker attire and a GoPro camera on his helmet. One can notice it was a two-way road, and the biker's side was relatively empty. Also, there was no divider between the two sides. 
At one point, the man attempts to perform a wheelie stunt on his motorbike, where he rides the bike on its rear tyre and the front tyre up in the air. Unfortunately, the man loses control and collides into a tanker's tyre on the other side of the road. This video was shot by a person moving in a car behind a motorbike. 
IPS officer Rupin Sharma shared this video on Twitter with the caption, "Be Safe. Aise Mat Karna. Hero ki Heropanti nikal gayi." After being shared online, the video has accumulated over 3.5K views and 128 likes. A user wrote, "It seems, that a citizen has only to wear an helmet for his or her imagination to run riot on Indian roads. No helmet, then you need to pay a fine. This is all what it matters. So much for road discipline and traffic rules." Another person commented, "This has been a serious concern with youngsters. In Bangalore kids are often seen this as thrills but need a serious law for this activities to stop,as every year ppl are breaking the law for social media, law amendments are required. A request." Watch the video.
Last Updated Oct 31, 2021, 11:10 AM IST