Bihar Politics: Shyam Rajak returns to RJD after 10 years
With Bihar polls fast approaching, politicians are jumping parties. On Monday Minister former Minister of Industries in the Bihar government Shyam Rajak joined RJD. On the occasion, senior RJD leader Tejashwi Yadav accused Bihar CM Nitish Kumar of gross mismanagement in the state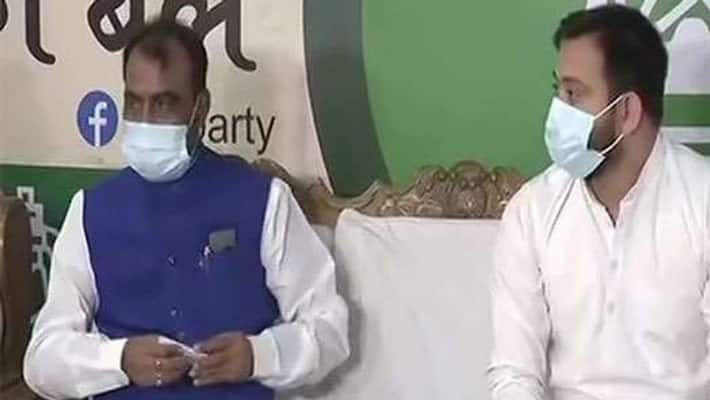 Patna: Former JD(U) leader and Minister for Industries in the Bihar government Shyam Rajak on Monday joined RJD. Tejashwi Yadav got Shyam Rajak the party membership. On the occasion of joining RJD, Shuam Rajak said that Bihar CM Nitish Kumar only hears what senior officers have to say. He further added that many members of JD(U), MLAs, and representative of the people are feeling troubled under the CM. He said that he had gone to the Assembly on April 2 to protest against the oppression of Dalits. From that day he was being considered a problem for the government. Shuam Rajak further added that the government kept contemplating that how could a man who stands for the rights of Dalits can march ahead.
Before this Rajak said "I have wasted 10 years by staying with Nitish Kumar. Now I will fight for the social justice.". Rajak was expelled from JD(U) on Sunday on the allegations of anti-party activities.
On Shuam Rajak joining RJD, RJD leader Tejashwi Yadav said that Rajak has come to his real and old home (RJD) and people are happy about it. Accusing the Nitish Kumar-led JD (U) government, Tejaswhi Yadav said that there is no room for people's representatives in the current government. There is no respect for the representatives of the common man. There has been a rise of bureaucracy under the current government, Tejashwi Yadav further added. The labourers who had returned to the state due to lockdown have been insulted to the senior leader added.  Highlighting the grim situation in the state Tejashwi Yadav said that because of Coronavirus infection whole system has collapsed. Accusing the CM Tejashwi Yadav said that the state is also facing massive problems because of floods but the CM is worried about his position.
On Sunday, RJD expelled its three MLAs who were planning to switch sides. State Party President Jagada Nand and Principal General Secretary Alok Mehta expelled MLAs Maheshwar Yadav, Prema Chaudhary and Farhaj Fatmi from the party for 6 years. According to the party, the expelled members have been involved in anti-party activities for many months. The three expelled MLAs could join JD(U) today.
According to the sources, former CM Jitan Ram Manjhi could return to NDA as a part of JD(U) camp.  According to the new arrangements, Manjhi will now adjust to his party in the NDA. 
Last Updated Aug 17, 2020, 2:51 PM IST