Assessing the 2020 election affidavit of Lalu Yadav's elder son Tej Pratap Yadav.
There is hardly anyone in Bihar who doesn't know Tej Pratap Yadav. Belonging to the largest political family in Bihar, Tej Pratap was 25 years old when he became an MLA.
Unlike last time when last time he fought and won from Mahua, in this election, he will be contesting from Hasanpur. 
Asianet Newsable examined his election affidavit. Here's what it reveals.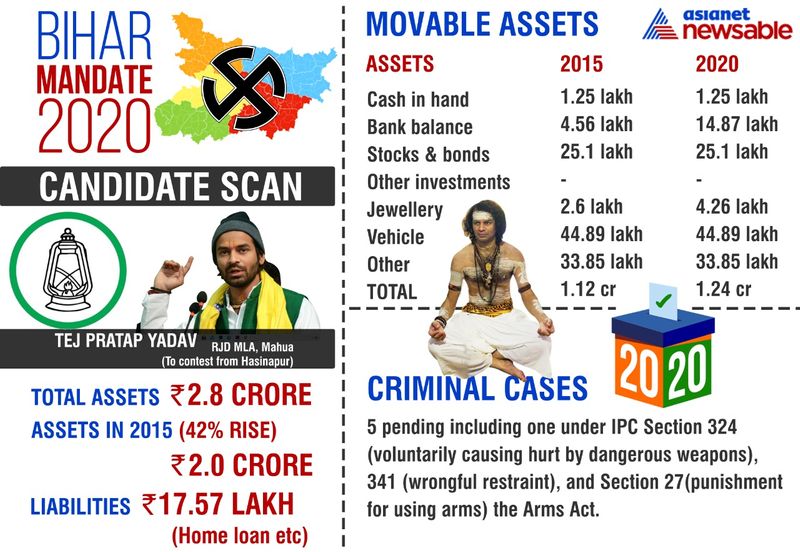 * Tej Pratap Yadav' wealth has increased by Rs 83 lakh in 5 years. In 2015, he had assets worth Rs 2 crore. Today, he has assets worth Rs 2.83 crore.
* Tej Pratap owns a CBR 1000RR bike which is worth Rs 15.46 lakh. The second is a BMW car worth Rs 29.43 lakh. 
* Tej Pratap deposited more than 3 lakhs tax in 2019-20:
* Tej Pratap had paid Rs 6.79 lakh in 2016-17 and Rs 6.90 lakh in 2017-18. But, in 2018-19, he collected tax of Rs 2.11 lakh only. Whereas, in 2019-20, an ITR of Rs 3.11 lakh has been filed.