Bihar election 2020: 'LJP will be kingmaker post election'
In an exclusive interview with Asianet Newsable, Lok Janshakti Party's Karnataka state president Jagganath is confident that the party will be in a position to be kingmaker in Bihar.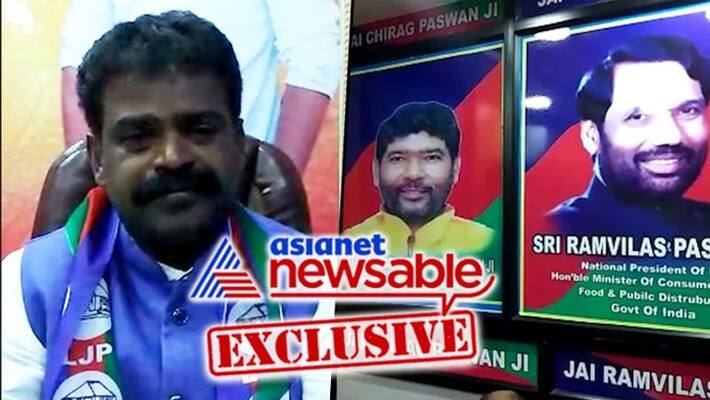 Bengaluru: Even as Ram Vilas Paswan was undergoing treatment, the Lok Janshakti Party was already in a state of flux.
Paswan's son Chirag decided to go alone in the Bihar elections, decciding to field candidates against the BJP-JDU combine.
In the aftermath of Paswan's demise, the party cadre are expecting a sympathy wave. Some are even talking about the LJP emerging as kingmaker in the state post election.
One such person is LJP's Karnataka unit president Jagganath. He spoke exclsuively to Asianet Newsable's Yacoob.
Q: Does the LJP see itself emerging as the kingmaker in Bihar?
Jagganath: Yes, the chances are more that LJP my emerge as a kingmaker in Bihar. In the last election, LJP had secured 33 seats. In this election, we have a lot of expectations. Due to the untimely death of Paswanji, now the respect for him has grown further. The pain that people felt for Paswanji will get us more seats. Surely, LJP will will be a 'kingmaker'. And it is not a matter of surprise.
Q: Now that LJP has distance himself from NDA at the state level, will Chirag Paswan be projected as the CM face in his father's absence?
Jagganath: One hundred percent. Ram Vilas Paswan had a big dream to make Chirag chief minister one day. And once we get majority of seats, all state presidents wish to see Chirag as CM.
Q: Why did the relationship between LJP and JDU get strained?
Jagganath: The reason why alliance did not happen was perhaps because of misunderstanding among central level leaders. Our leaders have not communicated too much to us about this. One reason is the our demands from Nitish Kumar were not fulfilled and that's why alliance did not take place.
Q: You think Senior Paswan's demise and the sympathy from there trigger a sympathy wave for the LJP?
Jagganath: In Bihar, there are more Dalit families and backward communities. People who like Paswan will stand by him. They will like the policies (he unveiled) to help these sections. People like him more in Bihar. Hence in this election, his reputation will further increase. And it appears that Chirag's chances of becoming CM are increasing.
Q: Congress leader Rahul Gandhi has dashed off a letter to Chirag expressing condolence. There have been some speculations. Is there more to this than meets the eye?
Jagganath: In politics, be it Rahul Gandhi or Narendra Modi,  many see Ram Vilas Paswan as a jewel. The condolence message from Rahul was among the many from across the political spectrum. Reports of Rahul Gandhi's condolences message for politics is far from the truth as others. In the recent press meet, Chirag told he stepped back from Nitesh's camp but has not snapped ties with Prime Minister Modi.
Q: Paswan had a road map to take LJP to South India, is that true?
Jagganath: Yes, rightly said. The election to 223 assembly segments, upcoming BBMP (Bengaluru civic body) election where the aim was to go from 198 to 250 wards -- we were ready. Paswan had told us that the understanding was only at central level and not for Karnataka. He told us personally to field candidates at gram panchayat level, zilla panchayat, assembly and BBMP elections. We were ready.
Last Updated Oct 11, 2020, 12:04 PM IST