Big day for HAL: FOC standard LCA Tejas inducted into IAF Squadron 'The Flying Bullets'
Hindustan Aeronautics Limited's Light Combat Aircraft Tejas has been inducted into IAF squadron 'The Flying Bullets' at a function at Sulur (Tamil Nadu)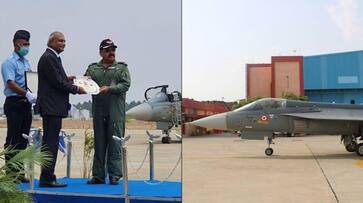 Bengaluru: It's another milestone for Hindustan Aeronautics Limited as it produced  Free of Charge (FOC) standard Light Combat Aircraft Tejas has been inducted into IAF squadron 'The Flying Bullets' at a function at Sulur (Tamil Nadu) on May 27. 
R Madhavan, CMD, HAL said, "We are proud to deliver a much lethal aircraft than the IOC block. Apart from all the capabilities of IOC aircraft, the FOC variant additionally comes with Air-to-Air refuelling capability, close combat gun, additional drop tanks, BVR missile capability, updated avionics and flight control software suite."
The FOC variant will reduce the maintenance man hours and turn-around time resulting in enhanced support for IAF missions. Four more FOC-LCAs are in the advanced stages of production and testing and expected to join the Squadron soon.  HAL commenced the training for both air crew and maintenance crew for FOC aircraft and the first batch of trained air warriors are already with the 18 Squadron.
Earlier in the day, it was Chief of Air Staff Air Chief Marshal RKS Bhadauria who flew a Tejas single-seater light combat aircraft. The aircraft is a part of the IAF's 45 Squadron.
The 18 Squadron is codenamed as 'Flying Bullets'. It will be the second squadron in the Indian Air Force to fly the Tejas aircraft.
The lifespan of the jet would be a minimum of 30 years just like any other front-line combat aircraft.
No 18 Squadron: 
The No 18 Squadron, formed in 1965 with the motto "Teevra aur Nirbhaya" meaning "Swift and Fearless," was earlier flying MiG 27 aircraft.
The Squadron actively participated in the 1971 war with Pakistan and was decorated with the highest gallantry award Param Vir Chakra awarded to Flying Officer Nirmal Jit Singh Sekhon posthumously.
It earned the sobriquet Defenders of Kashmir Valley by being the first to land and operate from Srinagar. The Squadron was resurrected on April 1 this year at Sulur.
Last Updated May 27, 2020, 7:51 PM IST