`32 yrs on, toxic waste still lying in Union Carbide factory'
Gas leakage from Union Carbide, which made pesticides had left more than 3,000 people dead on December 3 and 4 in 1984
Protesters burnt the US flags and effigies of Prime Minister Narendra Modi and Madhya Pradesh Chief Minister Shivraj Singh Chouhan
Toxic elements not cleaned yet, children are born with deformities and people inhale poison even after 32 years of the incident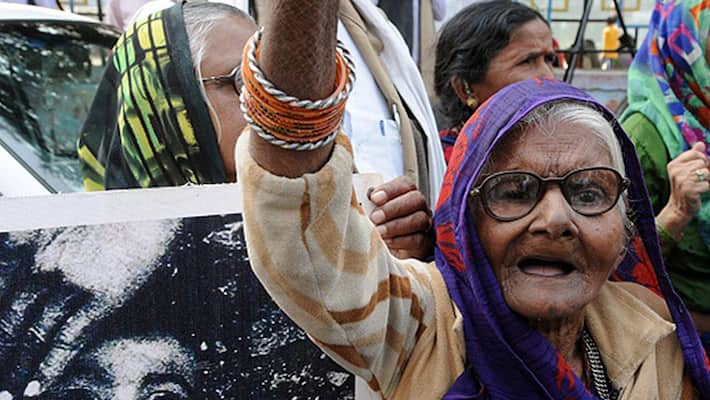 The protesters burnt the US flags and effigies of Prime Minister Narendra Modi and Madhya Pradesh Chief Minister Shivraj Singh Chouhan, claiming that the Union Government was not forcing the Dow Chemical, which acquired Union Carbide, to own up its responsibility towards the victims and clean-up of the factory.
Gas leakage from Union Carbide, which made pesticides, on the night of December 2-3, 1984, left more than 3,000 people dead and many more injured.
Abdul Jabbar and other leaders of NGOs working for gas leak victims demanded that governments of USA and India stop sheltering the MNCs and ensure justice and life of dignity for the half million survivors.
"We burnt the US flag and effigies of Uncle Sam and logos of two US companies -- Union Carbide and Dow Chemicals – as they have done nothing to end the sufferings of the victims for the last 32 years," said Satinath Sarangi and Rachna Dhingra of `Bhopal Group for Information and Action'.
"The abandoned factory's toxic waste is still killing and maiming people living around its premises," Bhopal Gas Peedit Nirashrit Pension Bhogee Sangharsh Morcha president, Balkrishna Namdeo said.
Rashida Bi, president of Bhopal Gas Peedit Mahila Stationery Karmchari Sangh, said those living in the radius of five km of the factory were forced to drink the contaminated underground water and "are contracting deadly diseases due to the seepage of toxic waste dumped in the factory premises".
Union Carbide dumped 11 lakh tonnes of toxic waste on the premises during its 14 years of operations, she claimed.     
"Right now, 340 tonnes of toxic waste is lying on the ground. The Dow Chemical Company which took over Carbide in 2001 is responsible for cleaning up the contamination of soil and groundwater in more than 50 sq km area around the factory," she said.
Last Updated Mar 31, 2018, 6:36 PM IST