Bharat Bandh: Protesters detained in Kolar
On the backdrop of Bharat bandh, trade unions which staged a protest in front of Karnataka State Road Transport Corporation (KSRTC) bus depot in Kolar were detained by the police. However, bandh has had no effect in many places in Karnataka.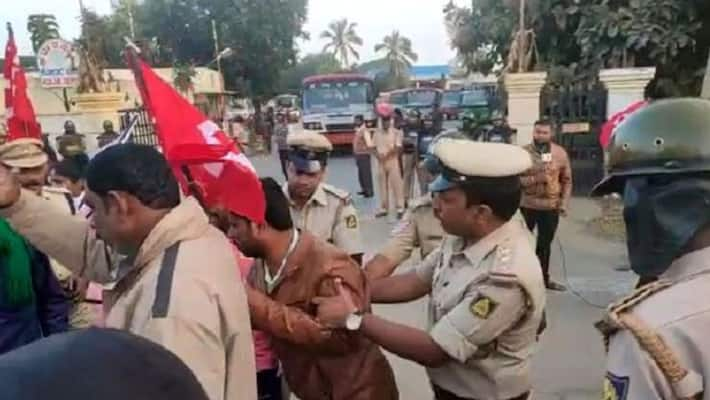 Kolar: More than 10 Central trade unions, except the Rashtriya Swayamsevak Sangh (RSS)-affiliated Bharatiya Mazdoor Sangh (BMS), have called for a nationwide strike today, citing dissatisfaction with the government's "policy and action" towards workers. Nearly 25 crore people are expected to take part in this all-India strike to protest over the government's "anti-people" policies.
The unions have been calling for action on a list of demands, which they say have been ignored by the government. 
However, protests have been peaceful until now in parts of Karnataka with no bandh effect in Bengaluru. 
Trade unions staging a protest in front of the KSRTC bus depot near the toll gate in Kolar district were detained by the police. 
The protesters started assembling in front of KSRTC depot around 5 am today and were blocking buses from plying. The cops overseeing the fact that no mishaps take place, detained the protesters immediately. 
More than 70 police personnel including 1 KSRP, 1 DR were deployed at the KSRTC bus depot. Bandh has had no effect in most parts of the state and services are operational as usual. 
Mixed response to Bharat bandh was seen in Punjab and Haryana. A few protesters were detained in Chennai. 
Meanwhile, the government has asked public sector undertakings to dissuade their employees from participating in the strike and has advised them to prepare a contingency plan to ensure smooth functioning of the enterprises.
Last Updated Jan 8, 2020, 11:12 AM IST