Bengaluru: BBMP pourakarmikas get free houses; promise fulfilled partially
BBMP pourakarmikas who were promised free homes during former CM Siddaramaiah's term under Gruha Bhagya, realised their dream as BBMP handed over documents and keys to 60 workers. The palike will hand over flats to beneficiaries, stage-wise.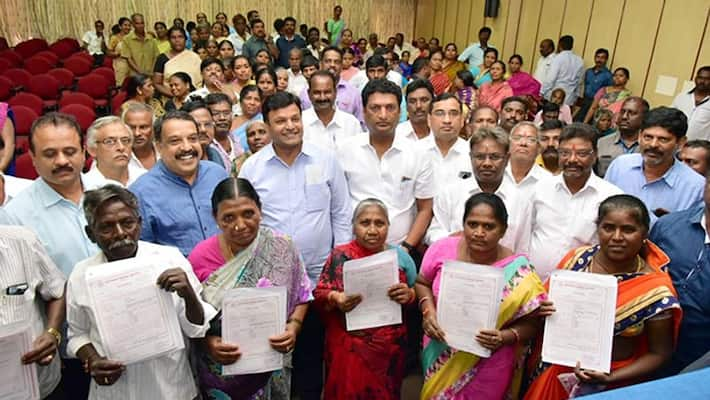 Having a house of your own in Bengaluru is a dream that is not realised by many these days. This is truer in the case of BBMP pourakarmikas.
Under Karnataka government's Gruha Bhagya scheme, 400 permanent pourakarmikas were listed under the scheme and on Tuesday 60 pourakarmikas were handed over documents and keys to BDA flats.
Mayor Gautham Kumar Jain, other palike members and officials invited 60 beneficiaries at IPP centre at Malleshwaram on the occasion and handed over the title deeds and keys of BDA flats built at Allur
The Municipal Administration Department that was the nodal agency to execute the Rs 25 crore worth project, initiated the work in 2014-2015. As the department released only Rs 10 crore, so far, only 60 beneficiaries have been able to get title deeds.
Each flat costs Rs 9 lakh. BBMP rolled out its share of Rs 3 lakh per unit and the rest was borne by the directorate of municipal administration.
According to BBMP, the flats were given to those who have completed 10 years of service in the loader and cleaner's category, have no other permanent residence and who are staying at rented homes or shantytowns. Out of 400 such workers the BBMP identified 272 in the first phase, out of which 89 such workers were supposed to get flats.
Last Updated Feb 19, 2020, 7:19 PM IST