Bengaluru: BBMP delivers masterstroke to end water logging at underpass, digs percolation pit
BBMP's decade long problem of waterlogging at underpasses may just be a thing of past as authorities have come up with a 230 ft percolation pit solution. The project costs Rs 55.2 lakh for 10 underpasses.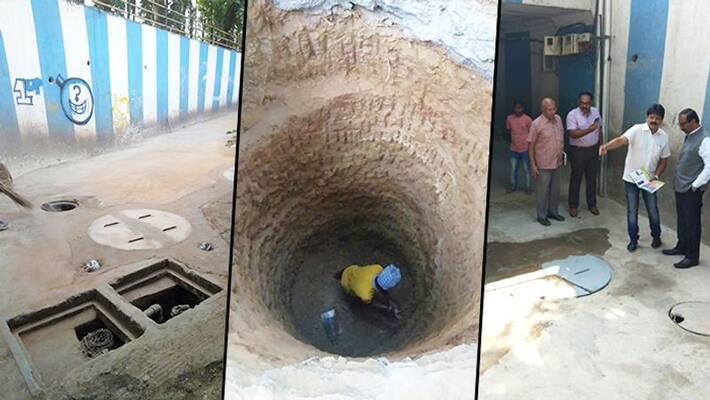 It seems like for the first time in the history of BBMP, the civic body is not only planning a project in advance but may also complete the same in time. In a bid to end waterlogging and traffic congestion at underpasses in Bengaluru city limits during rains, the BBMP, at the underpass near the Golf Course and Hotel Le Meridien, dug a 230ft percolation pit as a pilot project. The pit absorbed 10,000 litres of treated sewage water in no time.
The same will now be replicated in nine more locations
"As a pilot project an Injection well was dug to recharge ground water and also to avoid flooding of underpasses during rainy season at Sankey road - Cunningham road junction underpass. Today a trial run was held and almost 10,000 litres of recycled water was used. The ground water recharge pit of nearly 230 feet depth could take in all the water in a span of less than 5 minutes. This project would be replicated in other underpasses and RUBs where frequent flooding is reported during rainy season." Said BH Anil Kumar, BBMP Commissioner
Few of the worst traffic congestions during monsoon are seen in Kadirenahalli underpass, Puttenahalli, Tagore Circle, Kadubeesanahalli, Doddanekundi Railway Bridge, KR Circle underpass, Kempegowda-Kasturinagar underpass, Palace Road underpass near Maharani's College and Hebbal grade separator service road, and BBMP will hops to ease up this problem percolation pits at these locations.
In order to ensure garbage and other materials do not choke up drainage to the pits, another chamber has been set up to trap the silt and allow only water to seep into the tank
What is percolation pit?
A percolation pit is an artificially created path and tank in the ground that allows for infiltration of surface runoff which recharges ground water storage. In city limits, the tank serves dual purpose; one is to address water supply shortage during the harsh summer and the other is to decongest traffic near underpasses. 
Last Updated Jan 9, 2020, 2:12 PM IST