'Bachpan Ka Pyaar' boy Sahdev Dirdo felicitated by Chhattisgarh CM Bhupesh Baghel; Watch video
Chhattisgarh CM Bhupesh Baghel shared a video with internet sensation Sahdev Dirdo, the boy who went viral for singing his version of the 2019 song 'Bachpan Ka Pyaar'.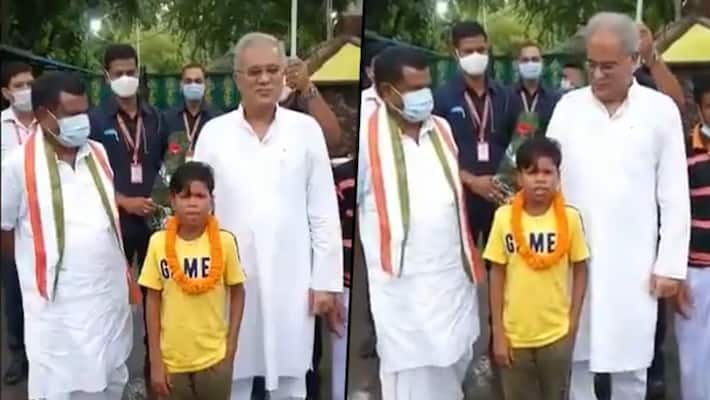 In 2019, young boy Sahdev Dirdo gained popularity for singing his version of 'Bachpan ka Pyaar'. Recently, Chhattisgarh CM Bhupesh Baghel met Sahadev, who resides in the Naxal-affected Sukma district. This time Sahdev sang for CM, which Bhupesh Baghel posted on his Twitter. The video shows Sahadev Dirdo with a garland of flowers around his neck and singing the same song. CM Bhupesh Baghel praised the boy for the song Bachpan Ka Pyaar and congratulated him.
Sahdev Dirdo sang Bachpan Ka Pyaar two years ago after his teacher asked him to voice the track. Earlier this month, Sahdev's video went viral after rapper Badshah created a remix of the little boy's version of the song and shared it on Instagram. The Bachpan Ka Pyaar trend was all over social media, with several personalities contributing to it. The video shared by Bhupesh Baghel has collected over 438k views and 45k likes. Watch the video.
Last Updated Jul 28, 2021, 12:20 PM IST