Ayodhya's Ram Temple to welcome devotees in January; Video highlights ongoing construction progress (WATCH)
The Ram temple in Ayodhya is under construction and set to open in January, with a Kumbabhishekam ceremony planned for January 22. Administrators have invited Prime Minister Modi for the event. A recently released video showcases the temple's interior with intricate carvings, emphasizing the craftsmanship and dedication behind its construction. The consecration of the Lord Shri Ram idol is a highly anticipated event, symbolizing faith and cultural heritage.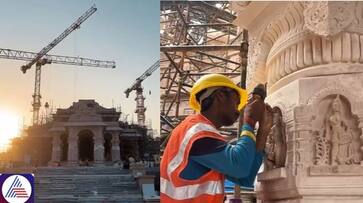 The administration of the Ram temple in Ayodhya has recently released a video showcasing the ongoing construction work of this historic site. The construction of the temple, initiated with great fervour and enthusiasm, has been in full swing since Prime Minister Narendra Modi's inauguration on August 5, 2020.
Devotees are eagerly awaiting the opportunity to visit the temple, with the administration planning to open its doors to the public in January next year. This has led to a considerable acceleration in the pace of construction.

Tejas: Kangana Ranaut aka Tejas Gill to visit Ram Mandir in Ayodhya today
The much-anticipated Kumbabhishekam ceremony for the temple is scheduled to take place on January 22 next year. To mark this auspicious occasion, the administrators of Sri Rama Janmabhoomi Tirtha KShetra met with Prime Minister Modi on October 25 and extended a formal invitation to the opening ceremony of the Ram temple.

Ram Temple in Ayodhya can now accept foreign donations, FCRA grants approval
The newly released video provides a fascinating glimpse into the temple's interior, revealing intricate carvings on the pillars and other remarkable details of the ongoing construction work. This visual journey offers a glimpse of the dedication and craftsmanship that are shaping the magnificent structure.
One of the most awaited moments is the consecration of the Lord Shri Ram idol, a sacred event scheduled to occur at the Ram temple on January 22. With the temple's ongoing expansion and the increasing number of devotees anticipated, the trust overseeing the temple's development is actively working to appoint priests who will play a vital role in the temple's worship services. The Ram temple in Ayodhya continues to be a symbol of faith, unity, and cultural heritage.
Last Updated Oct 26, 2023, 3:56 PM IST