Tejas: Kangana Ranaut aka Tejas Gill to visit Ram Mandir in Ayodhya today
Ahead of the release of Tejas, Bollywood actress Kangana Ranaut will visit Ram Mandir in Ayodhya today to seek blessings. The actress took to her social page and shared this news.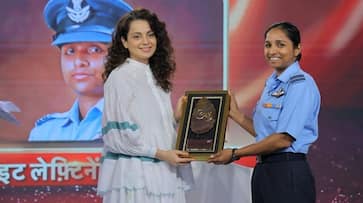 Tejas, starring Kangana Ranaut, is ready to enter theatres this Friday, and it appears that the film's lead, Kangana Ranaut, is going all out to promote it. In her quest to disseminate the spirit of courage and resilience of the country's strong souls through Tejas promotions, the actress is due to visit Ram Mandir in Ayodhya today, Thursday, to seek blessing. 

Kangana will visit Ram Mandir in Ayodhya today to see Ram Janmabhoomi. The actress would seek Lord Ram's favour for Tejas' release. Furthermore, Kangana's visit to Ram Mandir is significant since the famed heavenly temple plays an essential part in the film. This has heightened interest in seeing how Ram Mandir would be included into the film. 
Also Read: Kartik Aaryan, Tara Sutaria's rumored romance sparks social media frenzy; Read
Kangana used her social media to promote her visit. And shared a caption  - "Best news of the day, will be visiting Shri Ram Mandir tomorrow morning, Ram janmbhoomi is an important part of our movie #tejas Eager to do Darshan of janmbhumi and seek blessings there. Jai Shri Ram 🚩"
About Tejas movie: 
Tejas has been in the works for a long time. The film was formerly scheduled to be released in December 2020. The IAF is India's first military force to use women in combat positions. Tejas is set in 2016, when this historic decision was made. It centres on a courageous female jet pilot.
Kangana Ranaut, who portrays the protagonist, had four months of intensive training to perfect the specific fighting methods utilised by the Indian army. It is for the role of a soldier that she will perform on the big screen.
"Our brave women in uniform frequently make sacrifices that go unnoticed by the nation." Tejas is a film in which I get the privilege of portraying an Air Force pilot who puts nation before self. With this film, I wish to instill patriotism and pride in today's youngsters. "I'm looking forward to the journey with Sarvesh and Ronnie on this one," Kangana Ranaut said of the project in a 2020 interview with Mumbai Mirror.
Also Read: Rahel Makan Kora director files complaint over posting false reviews on social media
Produced by RSVP, Tejas stars Kangana in the titular Role. Written and Directed By Sarvesh Mewara and Produced By Ronnie Screwvala, the film is to be released in Theatres on October 27.
Last Updated Oct 26, 2023, 7:46 AM IST