Assam Polls: Final Phase Underway amid tight security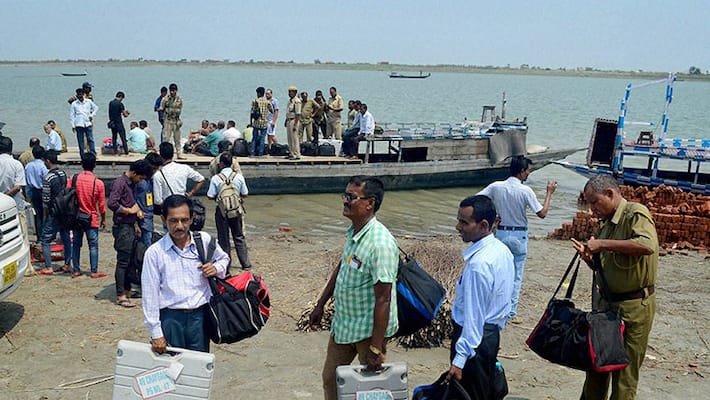 Fifty percent voter's turn-out has been reported till mid-day. Also an 80-year old voter was killed and three others were injured when a scuffle broke out in Sorbhog constituency in Barpeta district between voters and CRPF personnel. 
The second and final phase of Assam Assembly polls is underway. Polling began at 7 am this day amid tight security to decide the fate of 525 candidates in 61 of the 126 constituencies.  In this phase the contest is keenly fought among Congress, BJP-AGP-BPF alliance and AIUDF.
 More than a crore voters will decide the fate of 477 male and 48 female candidates in Lower and Central Assam.
Security is tight with more than 50,000 polling personnel deployed across the constituencies, particularly in four Bodoland Territorial Area Districts (BTAD) where National Democratic Front of Bodoland - Songbjit (NDFB(S)) militants are active and Goalpara district, where blasts were reported recently. Security has been also stepped up in minority dominated constituencies and along the India-Bangladesh border districts.
                While Congress is contesting in 57 seats, Maulana Badruddin Ajmal led -AIUDF in 47, BJP in 35, AGP in 19 and the BPF in 10. CPM is contesting in nine, CPI in five and independents in 214.
                Among the prominent candidates whose fate will be decided are state cabinet ministers Rakibul Hussain, Chandan Sarkar and Nazrul Islam, former two-time AGP Chief Minister Prafulla Mahanta, AIUDF Chief Ajmal and former Congress minister Himanta Biswa Sarma, who led a dissidence against Chief Minister Tarun Gogoi before joining the BJP last year.
                While Congress looks forward to retain power for the fourth successive term, BJP called for a parivartan (change) and AIUDF might play the king-maker in the formation of the next government.
Last Updated Mar 31, 2018, 6:46 PM IST