Asianet News Impact: Co-operative Urban Bank returns house key to Malappuram woman who failed to repay loan
Asianet News had earlier aired the plight of a woman in Malappuram who was living with her son on the verandah after Nilambur Co-operative Urban Bank confiscated their house. Following this, the bank officials returned the house key and assured that they would give more time to repay the debt amount to Saleena.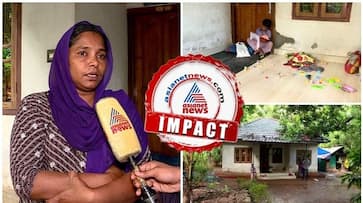 Malappuram: The Nilambur Co-operative Urban Bank seized the home of a woman who was unable to pay back the debt to the bank, forcing her to live with her six-year-old son on the verandah. However, following the intervention of Asianet News, the bank officials gave Saleena the house key. The bank officials also stated that she would have a grace period in which to repay the loan. Additionally, the bank manager said that a maximum discount would be applied to the amount.
Also read: Thiruvananthapuram Mayor Arya Rajendran's photo holding a month-old daughter in one hand at office goes viral
After Saleena missed her loan payment, Nilambur Co-operative Urban Bank took possession of her home in Malappuram's Edakkara Pathiripadam. Saleena has struggled with her two daughters ever since her young husband abandoned her. To raise her children, she went to the Gulf and earned some money out of which she could build a small house on 12 cents of land. Having no other choice but to marry off her two daughters, Saleena took out a loan for Rs 4 lakh.
When Saleena sustained injuries while working as a day labourer, the loan payments were delayed. With interest, the amount climbed to more than Rs 9 lakh. Selena was unable to settle the loan by selling the house, even if the bank removed the penalty interest. She could not even send her child to school as they were forced to live on the verandah and due to a lack of money for their daily expenses.
 
Last Updated Sep 17, 2023, 12:11 PM IST