Asian Games 2023: AFI president lauds Indian athletes for making country proud
Adille Sumariwalla, president of the Athletics Federation of India (AFI), believes that the medal count could have been higher if some countries had not fielded athletes of African descent.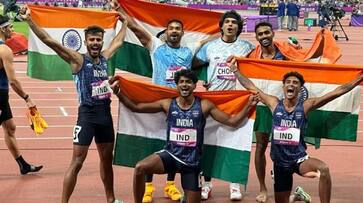 India's athletes have delivered a spectacular performance in the Asian Games 2023, clinching a record medal haul. While expressing his happiness over India's track-and-field athletes' performances, Athletics Federation of India president Adille Sumariwalla believes that if some countries had not fielded athletes of African descent, the medal tally could have been higher. 
Speaking to Asianet News Network, the vice-president of the World Athletics Council pointed out that 41 Indian athletes could have been returning home with medals rather than 26 currently.
He said, "From India, 65 athletes participated in various track and field events. Out of that 29 are returning home with medals. These include six Gold, 14 Silver and nine bronze. We lost at least seven Gold medals and five Silver medals to people of African origin who have been fielded by some countries. In a scenario where such athletes were not in the fray, the Indian medal tally would have gone up to 13 Gold, 19 Silver and nine Bronze."
This is not the first time that the AFI president has voiced his concerns over African-origin athletes running for other countries.
The AFI president lauded Indian athletes for their superlative performance at the games. Recounting the laurels earned by Indian athletes, Sumariwalla said: "While seven athletes delivered their personal best performance, five gave season's best performance at the Games. Further, three athletes set new national records while two others set new Asian Games records."
Sumariwalla credited the AFI's grassroots level programme for the results seen during the Asian Games in Hangzhou, China. 
Chinese staff targeting Indian athletes?
Anju Bobby George, the senior Vice President of the Athletics Federation of India (AFI), has accused Chinese officials of intentionally targeting Indian athletes. George asserted that achieving victory in China posed challenges for Indian athletes due to the alleged disruptive actions of Chinese officials. Her comments followed incidents of poor officiating during the javelin throw finals at the Hangzhou Asian Games, involving athletes Neeraj Chopra, Kishore Kumar Jena, and Annu Rani.
"This is not an isolated incident. It happened previously with our athletes, including Jyothi. Yesterday, it occurred with our javelin thrower, Annu Rani. Today, it happened with Jena and Neeraj. It appears deliberate, and I'm deeply saddened to witness such incidents at the Asian Games," stated George.
She further mentioned that the federation was considering lodging a protest against the Chinese officials.
"We are planning to file a protest against the officials. Although the competition has concluded, we secured gold and silver for Neeraj, Jena, and Annu Rani. However, we anticipated the challenges of winning medals in China, as even when we perform well, they engage in disruptive actions."
Last Updated Oct 5, 2023, 7:58 PM IST