Arvind Kejriwal disrespecting Vande Mataram: AAP member draws parallel with Nazi salute
An AAP member has compared the incident of Delhi CM Arvind Kejriwal sitting motionless with that of Nazi salute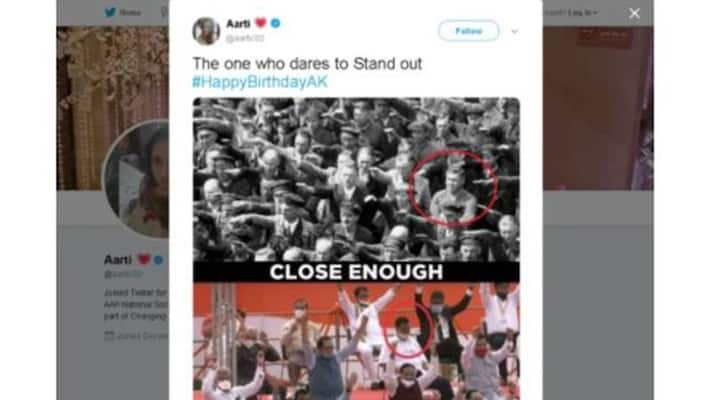 Bengaluru: Visuals of Delhi CM Arvind Kejriwal sitting motionless while Prime Minister exhorted everyone to sing the hallowed Vande Mataram have gone viral. 
Netizens have even criticised the move by Kejriwal for his indifferent attitude. 
Now, an AAP member by name Aarti has compared this gesture of the CM with the Nazi salute.
She has praised Kejriwal for his defiance.
She has even termed it "The one who dares to stand out".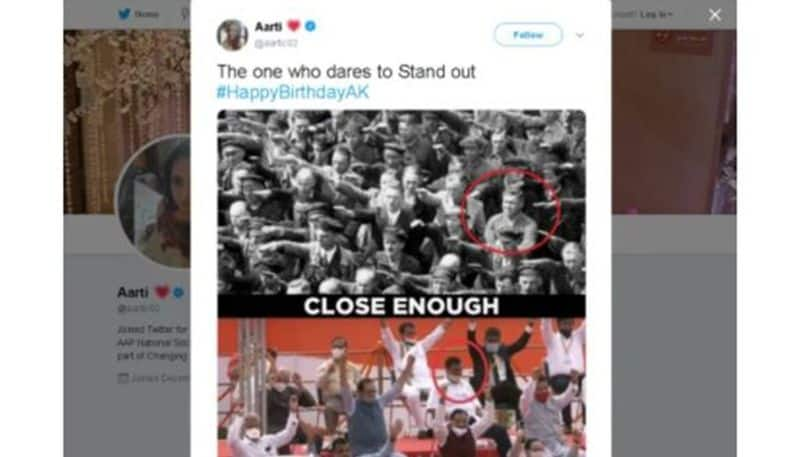 Here's a a note on the Nazi salute defying incident:

In the photograph that was shot in the year 1936, August Landmesser, a member of the Nazi party refused to give the Nazi salute.

The occasion was the launching of a navy ship at a shipyard in Hamburg.

But it is interesting to note that Landmesser was expelled from the party in 1935 itself for marrying a Jewish woman.

He was even pulled up for "dishonouring the race" under Nazi laws and was jailed. However, it should be noted that he was later released and drafted into the army. Sadly, he died during a war.

His wife was sent to a concentration camp and was killed by the Nazis in 1942.
While Landmesser's defiance stands out as a true symbol of opposition to oppression and dictatorship, Arvind Kejriwal's act of sitting motionless signals arrogance.

A note on Vande Mataram song: 
Vande Mataram is a song that was written by Bankim Chandra Chatterjee. It means "I praise you, mother".

In fact, it was the Congress party that adopted it as the national song in the year 1937.

Even Rabindranath Tagore sang it, thereby giving it a historical importance.

The British took umbrage to this song and even banned it as Indians sang it proudly. As a consequence, some of them had even jailed.

However, when India gained Independence, the ban was overturned. 
 
Last Updated Aug 17, 2020, 6:23 PM IST