Army conducts surgical strikes in Pak; PM chairs CCS meet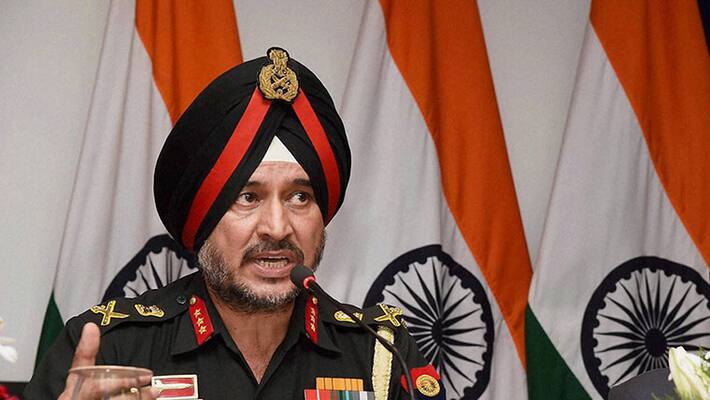 India conducted surgical strikes on terror launch pads last night across the Line of Control (LoC) and inflicted significant casualties and heavy damages.
The announcement of the sudden action by the army to target terrorists was made by the DGMO Lt Gen Ranveer Singh at a hurriedly called news conference during which External affairs ministry spokesman Vikas Swarup was also present.
Gen Singh said India shared with Pak army details of the surgical strikes which followed "very specific information" that terrorists were positioning themselves in the launch pads along the LoC.
Details of duration of the surgical strikes or when it was conducted or the place was not immediately given.
#ModiPunishesPak like..... pic.twitter.com/VU25aouDXl

— Lenin (@MohantyLenin) September 29, 2016
Gen Singh said heavy damages were caused to the terror camps and there were significant casualties, adding that as of now there was no plan for further operation.
The announcement of the strikes was made soon after Prime Minister Narendra Modi chaired a meeting of Cabinet Committee on Security(CCS) which was attended by Defence Minister Manohar Parrikar, External Affairs Minister Sushma Swaraj, Home Minister Rajnath Singh, Finance Minister Arun Jaitley, Army Chief Dalbir Singh Suhag and DGMO Singh.
Gen Singh said there were 20 infiltration bids on the border into India recently. He said there were Pakistani markings on GPS systems and on other recoveries made from them.

He said some terrorists were caught were residents of Pakistan. He said they were given training there.

"Despite our persistent urging that Pakistan respect its commitment made in January 2004 not to allow its soil or territory under its control to be used for terrorism against India, there have been no let up in infiltrations or terrorist actions inside our territory," he said.
Singh further said, "If the damage has been limited it has been primarily due to the efforts of soldiers of Indian army who are deployed in a multi-tier counter infiltration grid and most of the infiltration bids have been foiled at those locations. The Indian armed forces have been extremely vigilant in the face of continuing threat." 
Sharing details of the strike, Singh said, "Based on very credible and specific information which we received yesterday that some terrorist teams had positioned themselves at launch pads along the Line of Control with an aim to carry out infiltration and terrorist strikes in Jammu and Kashmir and in various other metros in our country, the Indian army conducted surgical strikes last night at these launch pads."
The operations were basically focused to ensure that these terrorists do not succeed in their design of infiltration and carrying out destruction and endangering the lives of citizens of our country, the DGMO asserted.
"During these counter terrorist operations, significant casualties have been caused to the terrorists and those who are trying to support them.

"The operations aimed at neutralising the terrorists have since ceased. We do not have any plans for continuation of further operations. However the Indian armed forces are fully prepared for any contingency that may arise," he said.
The DGMO said he had spoken to the Pakistani Director General of Military Operations and explained India's concerns and also shared with him the operations we had conducted last night.

"It is India's intention to maintain peace and tranquility in the region, but we can certainly not allow the terrorists to operate across the Line of Control with impunity and attack the citizens of our country.

"In line with Pakistan's commitment made in January 2004 not to allow its soil or territory under its control for any terrorist activities against India, we expect the Pakistani army to cooperate with us with a view to erase this menace of terrorism from our region. Thank you very much," said the DGMO.  
Prime Minister Nawaz Sharif in a statement issued on Thursday said, "Our wish for peace should not be mistaken for weakness. Pakistan Army is fully capable of defending its borders."
 "We strongly condemn the unprovoked and naked aggression of Indian forces resulting in martyrdom of two Pakistan soldiers along LoC.
We are ready for the safety and defence of our country."
Last Updated Mar 31, 2018, 6:53 PM IST