Anupam Kher detained by J&K police, denies permission to visit NIT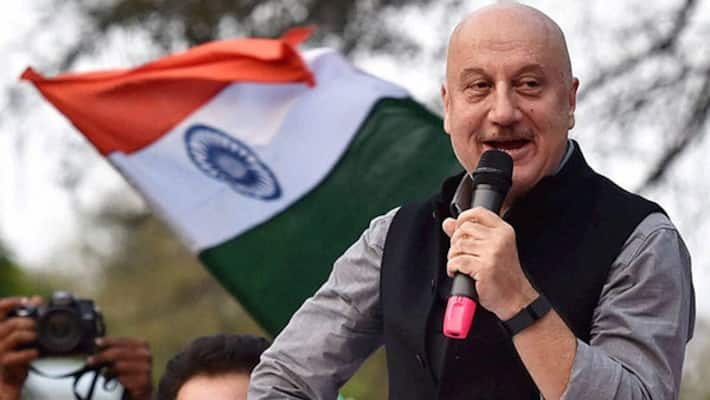 Veteran actor Anupam Kher and film maker Ashok Pandit were stopped at the Srinagar airport on Sunday by the Jammu&Kashmir police. The actor was on his way to the National Institute of Technology in Srinagar to extend his support towards the outstation students who have been protesting for over a week now.
Kher had voiced his concerns on Twitter about the police action on the outstation students ever since the valley students celebrated India's defeat at the semi-final match of the T20 world cup.
While waiting at the airport, Kher tweeted 
Later, after he was detained he tweeted 
Earlier on Saturday night the J&K police had stopped two vehicles carrying supporters of the 'Chalo NIT' march organised by BJP at Lakhanpur. A senior police official told Indian Express that around thirty to forty people were stopped in the night and on Sunday two cars that had managed to enter Jammu city were also turned back.
Even the head of the Bhagat Singh Kranti Sena, Tajinder Pal Singh was spotted in Jammu city to support the non-local students and was later asked to return.
The whole brawl started after the valley students celebrated India's defeat at the semi-final match against West Indies in the T20 world cup. The so-called celebration provoked the outstation students and since then they have been protesting against the college administration and the J&K police who allegedly resorted to violence while the students were protesting.
Last week, the Human Resource Development (HRD) ministry had sent a team to the campus to probe the matter and attend to the demands of the outstation students which included hoisting of the tri colour and shifting of the campus from Srinagar. However, the HRD ministry ruled out their demand of shifting the campus and agreed to only attend to their possible and feasible demands. According to HRD officials the "pass system" according to which girl students need special passes to leave the campus would be removed immediately. Apart from that girl students can now remain out of hostel from 5:30 am to 7:30 pm instead of the current 6:30 pm deadline. The administration further added that "no permission" would be required to celebrate festivals in campus.
A judicial probe into the incidents at NIT has been demanded by the Congress general secretary Ambika soni, who is on a tour of the state
Last Updated Mar 31, 2018, 6:49 PM IST