Antony Blinken in New Delhi: Taliban can't take over Afghanistan by force, abuse human rights
Speaking about the COVID that has grappled the world, Blinken said both the nations were hit hard and the US remembers with gratitude and will not forget the aid and assistance India provided to us early in the pandemic.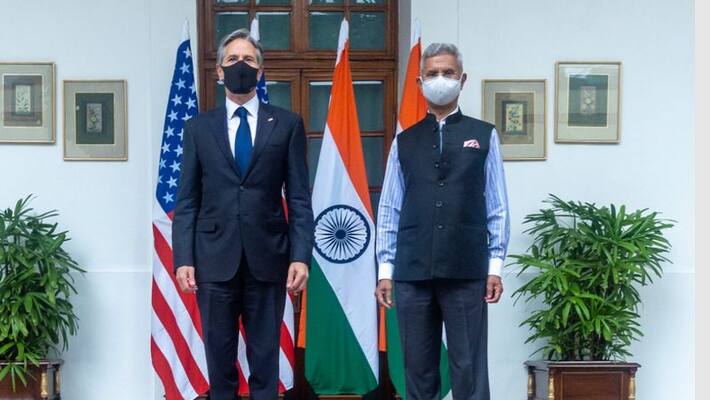 Amidst reports of Taliban gaining ground in Afghanistan, US Secretary of State Anthony Blinken on Wednesday said that the United States would remain engaged in the war-ravaged country despite the troops being withdrawn. 
Over 95 per cent of US and NATO soldiers have returned to their home country, and it is expected that the remaining would be withdrawn by September 11 this year. 
Secretary Blinken, who is in New Delhi on a two-day visit, held a bilateral meeting with his Indian counterpart S Jaishankar and agreed to further enhance the cooperation in the field of Covid-19 vaccination production, Afghanistan, Myanmar, trade, investment, education, incubation, among others. 
"The Taliban is making advances in district centres, and there are reports of them committing atrocities in Afghanistan. It is deeply troubling. It certainly does not speak well about their intention for the country. We remain engaged in Afghanistan," US Secretary of State Antony Blinken said in reply to a question during the joint press briefing with Jaishankar in the national capital.
Stating that the US continues to support regional stability in the region, he said, "Even as we withdraw our forces from Afghanistan, we remain engaged in Afghanistan. We have a strong embassy there and have important programmes that support the country economically through development and security assistance. We are very much engaged in the diplomacy of working to bring parties together at the table for the resolution of the conflict in Afghanistan."
On the ongoing situation in Afghanistan, the Secretary said, "The Taliban says that it seeks international recognition, that it wants international support for Afghanistan, presumably, it wants its leaders to travel freely in the world and sanctions lifted."
"Taking over the country by force and abusing the rights of the people is not the path to achieve those objectives. There is only one path, and that is at the negotiation table to resolve the conflict peacefully," Blinken added.
In Pakistan, Jaishankar said that it is natural for there to be consequences if the US pulls out. 
"Good or bad, in diplomacy, you deal with what you have. There should be a broad consensus for peace. (Pakistan) is an exception to that, for the last 20 years," he said.
China's criticism of QUAD
In response to a question on criticism by the Chinese government, Blinken said, "It is quite simple but as important. Four like-minded countries coming together to work on some of the most important issues of the time that are going to have a real impact on the lives of the people and do in a way that ensures a free & open Indo-Pacific."
"Quad is not a military alliance. Its purpose is to advance cooperation on regional challenges while reinforcing international rules and values that we believe together underpin peace, prosperity, stability in the region," he added.
On the same issue, Jaishankar shared India's perspective and said, "In a globalised world, India's interests are far beyond its immediate neighbours. We have interests in the Indo-Pacific. Not unusual for groups of countries to work together. BRICS is an example. Other countries should get over the idea a grouping is against them."
Human rights in India
"Our shared values and democratic traditions were part of our conversation. The relationship is so strong because it is a relationship between democracies. Americans admire Indians commitment to rights, democracy and pluralism. Indian democracy is powered by its free-thinking individuals. I approach this with humility. The US has challenges, too, common to all democracies. The search for a more perfect union means that we are not perfect. Sometimes the challenges can be painful, even ugly," Blinken said.
As friends (India and the US), "we talk about these issues, we talk about challenges we face in renewing & strengthening our democracies. Humbly we can learn from each other. No democracy, regardless of how old or large has it all figured out," he added.
Last Updated Jul 28, 2021, 5:52 PM IST