Anil Antony's mother knew about son's move to BJP, saw 'no future in Congress'
Veteran Congress leader A K Antony's son Anil Antony joined the BJP in April this year after quitting the Congress in January. He is currently one of the vice-presidents of the BJP at the national level.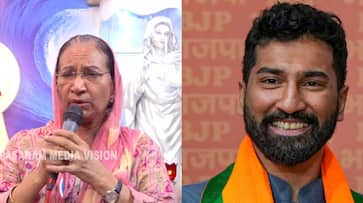 Alappuzha: Veteran Congress leader AK Antony's wife Elizabeth said that she already knew about her son Anil Antony's entry into the Bharatiya Janata Party (BJP). He went to the BJP as he saw no future in the Congress. Elizabeth stated that her anger for the BJP had subsided after Anil joined the party and that her son was happy in his present position. She also recalled that when Anil returned home after joining the BJP, Antony behaved with gentleness and he was calm. 
"Anil wanted to be a politician. After the Congress party adopted a resolution opposing dynastic politics, it became obvious that his (Antony's) children could not enter politics. Anil obtained other jobs, however, he gave up it all to pursue his passion. However, Antony was powerless to assist him. Despite having a high degree, even at the age of 39, his political career was not taking off, so I prayed for him," Elizabeth stated.
Elizabeth made the statement during a recent event at Kreupasanam Marian Shrine, a Christian retreat centre run by the Alappuzha Catholic diocese in Kerala. The video of her speech was released through their YouTube channel. 
'I prayed to St. Mary. I brought my 39-year-old son's dream before St. Mary whilst crying. After that, he received a call from the Prime Minister's Office asking him to join the BJP. He was informed that the BJP would offer opportunities. I asked Mary to open a path for his destiny in my prayers. My contempt and disgust for the BJP are gone. I have a new heart thanks to Mary," she said.
Elizabeth also said that despite Antony's decision to give up his active political career, her prayers had helped him stay on the Congress Working Committee.
Anil Antony joined the BJP earlier this year in April. He is currently the vice president of the saffron party. 
Anil quit the position he held in the Congress party in January this year after his Twitter post criticising the controversial BBC documentary on Prime Minister Narendra Modi and the 2002 Gujarat riots irked the party. He had handled the digital communications of the Congress party's Kerala unit. His remarks came at a time when the Kerala unit of the Congress party announced that it would hold screenings of the documentary on the 2002 Gujarat riots across the state.
Last Updated Sep 23, 2023, 7:14 PM IST