Andhra Pradesh gas leak: PM Modi monitoring situation, CM Jagan to take stock of situation
The Vizag factory was trying to open post lockdown when the incident occurred, DG NDRF said.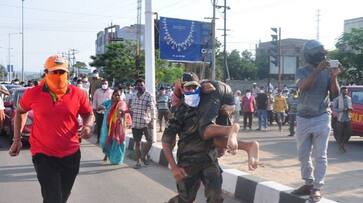 Visakhapatnam: Eight people, including two children, died while over 200 people were hospitalised after a gas leakage from LG Polymers chemical plant in RR Venkatapuram village, Visakhapatnam, in Andhra Pradesh. 
PM Narendra Modi reacted to the gas leak accident at Andhra Pradesh chemical plant and said he has spoken to officials at the home affairs ministry and the National Disaster Management Authority (NDMA) regarding the incident.  
PM Modi has called a NDMA at 11 am to take stock of the situation. 
"Spoke to officials of MHA (Ministry of Home Affairs) and NDMA (National Disaster Management Authority) regarding the situation in Visakhapatnam, which is being monitored closely. I pray for everyone's safety and well-being in Visakhapatnam," PM Modi tweeted. 
Meanwhile, chief minister YS Jagan Mohan Reddy is en route Visakhapatnam to take stock of the situation. He is boarding a flight at 11 am. 
Union home minister Amit Shah also reacted to the horrifying gas leakage and wrote on Twitter, "The incident in Vizag is disturbing. Have spoken to the NDMA officials and concerned authorities. We are continuously and closely monitoring the situation. I pray for the well-being of the people of Visakhapatnam."  
The rescue team has contained the gas leak and have sprayed disinfectant as the country is still fighting coronavirus pandemic. 
Last Updated May 7, 2020, 10:51 AM IST