Amaravathi row: BJP blamed for Naidu's mess?
The latest map of India released by the Centre after abrogation of Article 370 has left people in Andhra Pradesh angry after Amaravati was not mentioned on the map. However, the BJP has said that the previous government headed by Chandrababu Naidu did not get the gazette clearance.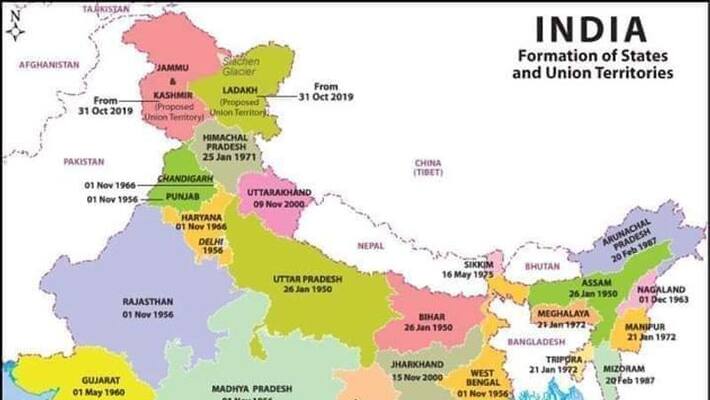 The  latest map of India that has been released by the Centre after the abrogation of Article 370  has triggered a row, as Amaravati, the capital of Andhra Pradesh was missing a mention. 
The new map was issued marking Jammu & Kashmir and Ladakh as Union Territories on October 31. While all states and their capitals can be seen on the map, Amaravathi did not find a place. 
Andhra Pradesh and Telangana were bifurcated in 2014. While it was initially decided that Hyderabad would serve as the common administrative capital for a period of 10 years, former AP chief minister Chandrababu Naidu went on to announce the state's capital as Amaravati, by the banks of river Krishna.
The controversy comes at a time when an expert panel constituted by the Andhra Pradesh government has sought people's opinion on state capital Amaravati and other projects, to decide its future. 
While the TDP was keen on developing Amaravati as a modern megalopolis, the YSRCP has not been too eager on the prospect. 
However, BJP spokesperson Krishna Saagar Rao told MyNation that the BJP is having to deal with previous chief minister Chandrababu Naidu's mess. 
"The National Map is published through a gazette notification and only notified places will find a mention. For AP, the gazette notification has not been issued as Amaravathi is a new city. Perhaps Naidu, who was so busy in politics and zero governance, didn't get the time to issue notification," added Krishna Saagar Rao
Releasing the new map of India, the Centre said that the new Union Territory of Ladakh consists of two districts -- Kargil and Leh. The rest of the former state of Jammu and Kashmir is in the new Union Territory of Jammu and Kashmir.
Last Updated Nov 4, 2019, 2:26 PM IST